Sounds for the Future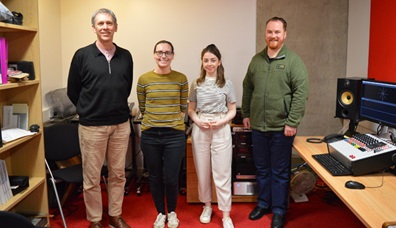 Special Collections and the East Midlands Oral History Archive (EMOHA) are running a new project, 'Sounds for the Future'. The project is funded by The National Lottery Heritage Fund and will run from May 2022 to October 2023. The project will secure the future of the collections of the EMOHA.
EMOHA has been archiving, collecting and using oral history recordings for over 20 years. Based in the Centre for Urban History at the University of Leicester, it is a partnership with the Record Office for Leicestershire, Leicester & Rutland. In the past, many recordings were archived to CD-R, which are now at risk of deterioration, as are several collections of tapes that have never been digitised. There is also a large backlog of cataloguing, which means that many recordings are not available to be listened to.
Sounds for the Future will preserve all EMOHA's collections in a new digital preservation system and bring the cataloguing up to date. The project will also create lots of opportunities for volunteers to learn about oral history, audio preservation, and how to use oral histories to explore local history and heritage.
Our collections mostly cover the history of Leicestershire and Rutland although we will be working with collections from Lincolnshire, Northamptonshire, and Nottinghamshire too. If you are interested in learning about any of the following, get in touch with us to see how you can volunteer:
Cataloguing oral history collections
Summarising oral history interviews
Using sound clips to create web pages about local history
Recording podcasts about local history
Creating exhibitions using oral history
Using oral histories for creative projects
If you would like to find out more about the project and how you can volunteer contact Colin Hyde on emoha@le.ac.uk or 0116 2525065.