Careers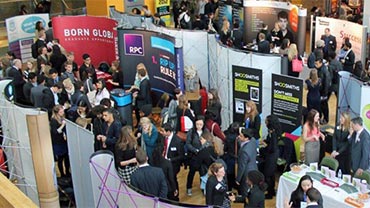 We place great importance on ensuring students' employability skills are enhanced through their studies and a range of other activities within the Law School. There are two members of academic staff who are dedicated Careers Tutors, and students also benefit from extensive support from the University's Career Development Service.
The Law Careers Fair is the highlight of each year's careers activities, when around 40 law firms visit the University. This is an excellent opportunity for students to make contact with recruiters in major firms. In addition, there is an annual Barristers Fair, where students can meet barristers from a range of chambers.
Events are organised throughout the year within the Law School, such as visits by Legal Practice Course (LPC) providers, law firms and Leicester graduates working in the legal profession. Presentations and coffee mornings have been arranged for both local and international law firms such as Allen & Overy, Freshfields, Irwin Mitchell and Dentons.
The Law School also maintains close links with the Leicestershire Law Society. Local solicitors provide generous assistance in helping with the operation of legal competitions and the legal advice clinic.
The Law Careers Tutors manage an active Law Careers Intranet site with weekly email bulletins on the latest careers events, information and opportunities. We produce a Law Careers Handbook annually, as well as a guide to law-related careers for those thinking of careers outside the legal profession.
Prizes
The Law School awards a number of careers-related prizes each year:
The 36 Bedford Row Prize (for best overall second-year performance by a student intending to be a barrister)
The Leicestershire Law Society Prize (best graduate of the year intending to practise as a solicitor)
The Neil Head Memorial Prize, donated by Josiah Hincks Solicitors, Leicester (best overall performance of a graduate intending to practise as a solicitor in Leicester/Leicestershire)