Impact story: Student Support
Impact story: Student Support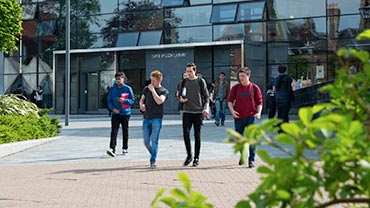 The University offers a range of scholarships and bursaries to help students from less-advantaged backgrounds attend university and get a world-class education.
Students can be disadvantaged for a host of reasons, and support needs are often complex.
For those who do not have emotional and financial support from their families, getting the most from their time here can be difficult. Thanks to the philanthropic support of local businessman Ian Mattioli MBE, the University is now in a position to offer extra financial support to these students, and we have begun to understand more about the scale of this issue and the needs of our estranged students.
Gifts to the fund have helped students such as Joanna. Joanna was a first-year medical student. Her father passed away when she was two and her mother died in a car accident in 2015. She and her two brothers lived with their stepfather, under extreme financial hardship. In 2016, her younger brother was taken into state care. Joanna's wider family live in the Philippines, and were unable to offer any assistance. She had to rely on her boyfriend, friends and younger brothers for support while studying. She used her bursary to buy vital equipment for her course, such as a stethoscope and lab coat. It also paid for rent and travel costs to visit her siblings. Her ambition for the future is to become a doctor, and to be in a position to offer full-time care to both of her brothers. She hopes they can live together again soon.
Through the support of Ian's fund, 10 estranged students, like Joanna, had access to extra financial aid to help them excel at Leicester. The recipients, and the other 15 applicants, were also offered extra support through programmes such as the University's OnTrack scheme, which helps students with difficult circumstances complete their degrees.
The estranged student's bursary fund is a great example of how philanthropy can change lives, and give people chances they didn't believe were available.
Please consider making a gift towards our Student Support fund.