Solid Earth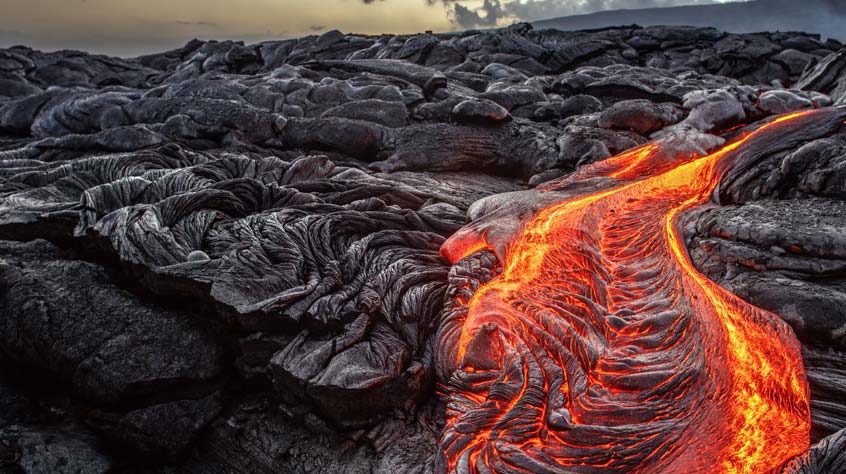 The Solid Earth research theme concerns all aspects of the structure, composition and dynamics of the Earth, including:
Volcanic eruptions
Tectonics
Impact-cratering
Geophysics
Magma genesis
Mantle circulation and evolution
Ocean floor research
Mineral resources (including the Centre for Sustainable Resource Extraction)
Volcanology
Our volcanology research covers volcanic eruptions and magmatic processes in many different parts of the world, from the Antarctic peninsula to East Greenland. Topics include emplacement and effects of flood basalts, large explosive eruptions, catastrophic density currents, magma-water and magma-ice interactions, calderas, volcanic instability and collapse, melt fragmentation and density currents from hypervelocity impacts, hydrothermal systems and mineralisation, and magma flow in lavas, sills and dykes.
Approaches include analytical geochemistry (XRD, XRF, EMP, (LA)-ICPMS), isotope work (Sr-Nd-Pb-Hf, O, Ar-Ar, U-Pb), SEM and X-ray microtomography, geological field analysis, petrogenesis, (3D-) computer modelling, structural analysis, volcanic stratigraphy and rock magnetism.
Geophysics
Our geophysics research focuses on the physical properties of the Earth's lithosphere, using a range of seismological techniques. The overall aim of these studies is to determine the processes by which the Earth's lithosphere has evolved over time, and how these processes shape the surface of the Earth at present and will shape it in the near future.
Our research has made major contributions to the understanding of the rifting of continental lithosphere, particularly in Africa, and current research is focused on the relationship between changes in upper mantle structure and surface elevation change in Scandinavia and Africa. The Group hosts SEIS-UK, which supports the UK's geophysics community with equipment, data management facilities, training and expertise in land-based passive and controlled-source seismic experiments.
The School also hosts the International Ocean Discovery Program's petrophysics logging service, with researchers involved in drilling programs all around the world and investigations into past environments.
Centre for Sustainable Resource Extraction
In the Centre for Sustainable Resource Extraction, we are highly active in strategically-important research on occurrences of copper, gold and platinum group elements and the magmatic-geochemical-hydrothermal processes that produce various types of deposit within modern and ancient arc, continental margin, large scale intrusive, and orogenic environments.
Current research examines specific examples of metal deposits in the UK, Greenland, Australia, Chile, Greece, Africa, and the western Pacific. The University of Leicester is leading important developments of 3D X-ray computed tomography techniques in mineralogical analysis.
This research capitalises on strong existing links between UK ROs and the mining industry, many of whom are partners in current projects such as FAMOS (From Arc Magmas to Ores) and TeaSe (Tellurium and Selenium Cycling and Supply). Tellurium and selenium are 'E-tech' elements which are essential in photovoltaic (PV) solar panels. The TeaSe project aims to tackle the security of supply by understanding the processes that govern how and where these elements are concentrated in the Earth's crust, and enabling their recovery with minimal environmental and economic cost.