Brain Awareness Week 2019
Brain, Behaviour and Beyond - 13 March 2019
The Division of Biomedical Services were privileged to take part in the University of Leicester's Brain Awareness event, held on 13 March 2019.
We were able to promote awareness and understanding relating to the use of animals supporting biomedical research in addition to promoting how well the animals are cared for. A Level and GCSE students from across the Midlands, plus members of the public, attended lectures and demonstrations throughout the day.
Our demonstration was able to link with other demonstrations at the event to promote how well the animals are cared for during the research projects in addition to the career of an animal technician.
We had the opportunity to distribute over 300 leaflets supplied by Understanding Animal Research (UAR) to all those that attended the event. The leaflets were able to help the public understand why animals are used in scientific research, where medicines come from and understanding the use of animals in veterinary medicine.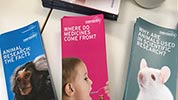 Thank you to our suppliers and collaborative organisations that supplied items for our demonstration.