Infection and Immunity
Infection and Immunity
MSc, 1 year, full-time
This is for you if... you want to apply your knowledge of biological sciences to studying the molecular and cellular basis of infections and the immune response, particularly if you want to pursue research at postgraduate level.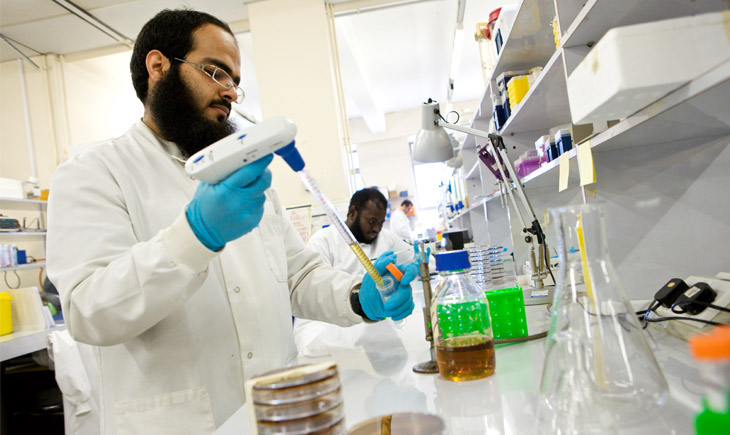 Course Description
In infants worldwide, infectious disease accounts for higher mortality and morbidity than any other category of disease. Tackling the burden of infectious disease on mankind is recognised as a health priority by the World Health Organisation and by the United Nations in its Millennium Development Goals. This Postgraduate Degree responds to the international need for research scientists by training biological and biomedical graduates to develop their knowledge and research skills in the fields of immunology and infection.
The course combines practical and theoretical teaching delivered by scientists and clinicians working in the University's College of Medicine, Biological Sciences and Psychology. Of great value to potential employers, the course also gives you experience of research in a six-month research project.
Key Facts
Start date

September each year

Department

Infection Immunity and Inflammation

Contact

Dr Alan Bevington
+44 (0)116 223 1402
ab74@le.ac.uk
Why Leicester?
The MSc course is taught by internationally renowned experts in the field of Immunology and Inflammation.
They share between them a scope of research expertise that provides an ideal environment for postgraduate teaching at both Masters and Doctoral levels.
There are currently more than 90 postgraduate students registered in our Department.
Course Structure
Modules
Modules
Modules shown represent choices available to current students. The range of modules available and the content of any individual module may change in future years.
Project
Project
At the end of the first semester you will start your research project, to be undertaken from January until July in the second semester under the supervision of a member of staff. Your project write-up will be submitted as a dissertation and forms a major part of the final degree mark. It may be possible to undertake a project in the Universities of Nantes or Rennes in France as part of an Erasmus Exchange Scheme.
Recent projects by Infection and Immunity MSc students have included:
The microbiomics of chronic obstructive pulmonary disease
Studies on action of new drug candidates for the treatment of invasive pneumococcal diseases
Growth arrest, neutral lipid content and antibiotic tolerance in mycobacteria
Studies on phase variable restriction-modification systems on resistance of Haemophilus influenzae to infection by bacteriophage
Identification and characterisation of novel bacterial transferrin and lactoferrin binding protein(s)
Some MSc projects have contributed to publications in respected journals:
Cruse G, Fernandes VE, de Salort J, Pankhania D, Marinas MS, Brewin H, Andrew PW, Bradding P, Kadioglu A (2010) Human lung mast cells mediate pneumococcal cell death in response to activation by pneumolysin. J. Immunol. 184, 7108-15
Bangert M, Bricio-Moreno L, Gore S, Rajam G, Ades EW, Gordon SB, Kadioglu A. (2012) P4-mediated antibody therapy in an acute model of invasive pneumococcal disease. J. Inf. Dis. 205, 1399-407
Modules shown represent choices available to current students. The range of modules available and the content of any individual module may change in future years.
Teaching and Assessment
You will be trained in lab techniques and will develop your proficiency in experimental design. These skills will then be put into practice in the lab-based research project which comprises two-thirds of the credits for your course.
The core lecture programme, which is shared between our various postgraduate lab-based courses, will develop your specialist knowledge. There are also optional lectures in fields related to your own, which will allow you to increase your understanding of the interdisciplinary aspects of your speciality. To bring you right up to date with your chosen topic, you can attend departmental seminars and College Research Theme days that include both visiting and internal speakers.
On days when there are no lectures, structured lab practicals are run in the first semester, alongside tutorials, seminars and employability sessions. In the second half of your first semester you will have specialist immunology practicals covering techniques relevant to your research project.
Assessment is a mix of formal exams and coursework including essays, practical reports, presentations and other written tasks.
Research Stories
Entry Requirements
2:2 degree in a biological science (e.g. Biochemistry, Biomedical Sciences, Microbiology or Immunology)
Or a BTEC with experience in a field related to infection and immunity, such as a health service or biopharmaceutical laboratory
Or a medical or veterinary degree, provided that the course included significant elements of molecular biology, microbiology and immunology
English Language Requirements
IELTS 6.5 or equivalent. If your first language is not English, you may need to provide evidence of your English language ability. If you do not yet meet our requirements, our English Language Teaching Unit (ELTU) offers a range of courses to help you to improve your English to the necessary standard.
International Qualifications
Find your country in this list to check equivalent qualifications, scholarships and additional requirements.
Countries list
Fees and Funding
This is the total course fee.

Starting in September 2016

Starting in September 2017

Find out more about scholarships and funding.

Did you know you can apply for a Postgraduate Loan of up to £10,000, subject to eligibility?

This is the total course fee.

Starting in September 2016

Starting in September 2017

Find out more about scholarships and funding.

Career Opportunities
The research training you receive and the research project you conduct will provide a training that PhD supervisors and employers value highly when recruiting their postgraduate research students from around the world.
Careers
Our Career Development Service is here to support you, with advice on interviews, CVs, work experience, volunteering and more. From Freshers' Week to Graduation and beyond, they are here to help you reach your professional goals.
| Course | Qualification | Duration | Start Dates | Availability |
| --- | --- | --- | --- | --- |
| Infection and Immunity | MSc | 1 year full-time | September each year | Apply Now |
Course
Infection and Immunity
Qualification
MSc
Duration
1 year full-time
Start Dates
September each year
Availability