Here for you
What's a chaplain?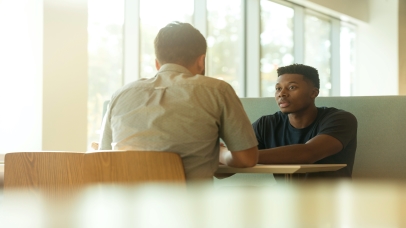 The word 'chaplain' means 'to come alongside'. It's someone who can journey with you during your time at university offering friendship, support, prayer and guidance.
Our chaplains come from various churches around the city, but we're here at the university so that we can offer spiritual support where you are. We do this from the starting point of our Christian faith, but there's no requirement to share that faith yourself. We're here to help people of all faiths and none.
You'll find us at the Gatehouse (near the Student Union) or out and about on campus, always ready to provide a listening ear whatever you're going through.
Say hello
Message us on Instagram, Facebook or Email and we'll reach out to you soon.
What do you do?
First and foremost, we're always available to talk. Whether you need prayer, advice or just a non-judgmental person to chat to, our team are always happy to hear from you.
We also run lots of events throughout the year, such as Welcome on Wednesdays, Firepit Nights, Pancake Parties and many more. These are a chance to make new friendships and relax amid the bustle of university life. We also run courses such as The Wellbeing Journey and Alpha.
And of course, the Gatehouse is open as a peaceful and supportive environment to think, meditate, pray or catch up with friends.