Leicester students and staff have often worked to bring about change in and beyond the University.
Action was taken against racism in Leicester from the late 1950s. It had transpired that overseas, and particularly Black, students were having more problems than white students in securing lodgings, and some pubs, cafes and dance halls were refusing to serve or admit Black people.
Between 1961-65, staff and students staged protests at such establishments, doing much to raise awareness of racial prejudice and defeating "colour bars". Their Campaign Against Racial Discrimination achieved national influence on policy and legislation.
Students protesting at the Brickmakers' Arms, October 1961
Students protesting at the Brickmakers' Arms with police, October 1961.
Student Union sit-ins
University leaders were suspicious about outside influence. "What does seem to be new is the degree of organisation… both 'activist' and 'anarchist' in its aims, which apparently now manipulates student movements and emotions on an international scale," said Leicester's annual report of 1966-67.
While it said students were "probably more apathetic" about protest than "their proper business of study", it noted: "There can be little doubt that the conflicts and stresses of being a student in the affluent and rootless society of today are greater than they were in the inter-war years of mass unemployment."
The University response
The Students' Union had wanted more say in how the University was run, and were frustrated at a lack of response to their suggestions. In early 1968, more militant students called an emergency general meeting then occupied the Fielding Johnson Building.
For four days and three nights, they camped out in the corridors, generating coverage in local and national press.
The occupation "developed into obstruction of the right of access to their places of work for many employees", grumbled the annual report of 1967-68.
On the third evening, another meeting – called by more moderate students – was held and the sit-in ended.
Talks between the University and the Students' Union resulted in a Staff-Student Council, Student Union representation on the governing body and the Union being allowed to run the Percy Gee Building, including the catering services.
Cuts to the library service sparked another occupation in 1975. After a "tense and well-argued debate" at a packed meeting, students decided on "immediate occupation", staying for one night. It was the second occupation in three years, reported student publication Ripple.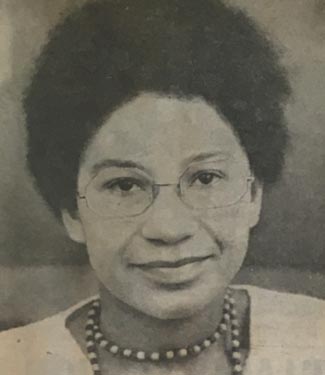 Esuantsiwa Jane Goldsmith
Influential Student Union President
The Students' Union President at the time was Esua 'Jane' Goldsmith, who happily admits to having been "your number one, dungareed, dangly ear-ringed activist" at Leicester.
"Jane was a live wire," remembers alumna Penny Kay. "She fought for excellent causes, like putting a condom dispenser in the women's loos, and did everything with vigour and enthusiasm. She believed in action and making a difference – and achieved it."
Jane was a live wire…She believed in action and making a difference – and achieved it.
Esua 'Jane' Goldsmith, who now uses her Ghanaian name Esuantsiwa Goldsmith or Esua for short, was the first woman of colour to be President and to chair the Fawcett Society. Since University, she has promoted women's human rights internationally, and works with more than 100 voluntary organisations around the world.
Activism and occupations are still part of campus life. In March 2018, students occupied the Fielding Johnson corridors again, this time in protest at the appointment of a Chancellor.