Saffia's story: from distance learning to campus study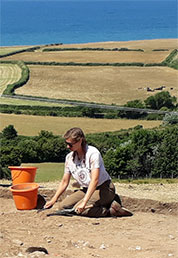 Hello, I'm Saffia. I started doing a distance learning course in Ancient History and Classical Archaeology in 2015. I chose distance learning as I went straight into employment after my GCSEs instead of further sixth form study. I'd always been really interested in history, and after a couple of years of working I realised I would love to study it properly.
After looking at various options I decided distance learning would be the best way to get into university without A-levels; hoping that in passing the first year of distance learning I would be able to transfer onto campus - which I did! I have now finished my second year in Ancient History and Archaeology, and I am about to begin my final year.
To begin with I was a little apprehensive of moving onto campus because it would all be unfamiliar to me and I didn't know anyone, however I've met many lovely people on my course and being able to share the student experience with others as well as having face-to-face tuition made the whole learning experience far more accessible and appealing for me.
I think distance learning is a great opportunity that the university offers as an alternative for those who don't meet entry requirements at first glance, or are unable to attend campus regularly - and distance learning also (as in my case) offers everyone the chance to move into the university system.