The Middle Draa Project
This British-Moroccan collaboration with Youssef Bokbot (Institut National des Sciences de l'Archéologie et du Patrimoine) is researching oasis communities from prehistory to the recent past in the Draa Valley, southern Morocco.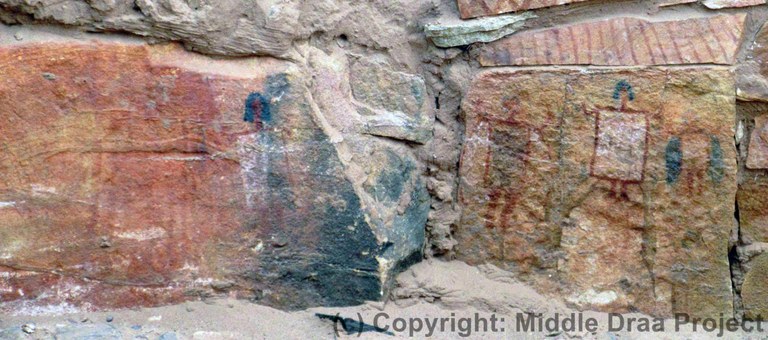 The Wadi Draa is situated in the south of Morocco and runs for nearly 400 kilometres through the Anti-Atlas Mountains to the edge of the Sahara proper and then west to the Atlantic. The middle section between Agdz and M'hamid, is one of the most fertile oases in the Sahara and a focus of the project.
Satellite remote sensing as part of the Trans-Sahara Project has located extensive archaeological remains of hundreds of sites including hilltop settlements, oasis settlements, cairn cemeteries, irrigation systems and dispersed settlements. This has been used as a guide for fieldwork making use of the latest technologies of Unmanned Aerial Vehicle survey (with our partners GeoDrone Survey), structure-from-motion, differential GPS and backed up by a programme of AMS radiocarbon dating.
View a 3D model of the LAR002 Hilltop Settlement.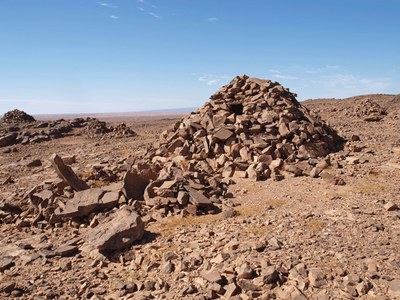 Early results from the project include the settlements of protohistoric oasis farmers, a number of rock art sites showing horse and rider images and massive burial mounds with painted funerary chapels. The medieval period is similarly well attested with several undocumented town sites, fortified ksour and vast areas of abandoned oasis gardens.
A key part of the project is the documentation of damage and risks to archaeological remains (in collaboration with the Endangered Archaeology of the Middle East and North Africa Project) and the communication of our results to local communities and stake-holders. In 2016 we launched an exhibition on the archaeology of the Draa in the main city of Zagora, this will tour the villages of the region during 2017.