Parking and travel to campus
Parking and travel to campus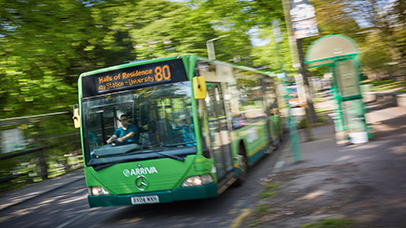 Situated just three miles from main campus, you can walk, bike or take the bus from Oadby Student Village.
Walk
An ideal way to keep your step count high, it's about a 40-minute walk from Oadby Student Village to main campus.
Bus
Arriva provides a dedicated bus service between Oadby Student Village, campus and the city centre. Buses run from 7.30am to 11.30pm weekdays during term time (with reduced hours at weekends), so everything is easily accessible. You may want to get an annual student pass, monthly or weekly tickets, or just pay as you go. For more information on ticket prices, visit the Arriva website.
Bike
It's easy to cycle between Oadby Student Village and main campus. There's a cycle lane most of the way and the journey only takes about 15 minutes. You can store your bike in the secure underground bike storage on main campus and in the bike sheds at Oadby.
Parking
Oadby Student Village has limited parking, but if you bring your car with you, we won't charge you for parking - you'll just need to apply for a permit. It's worth bearing in mind that there is no student parking on campus, so you may want to consider other options for travelling to lectures.