Past events
January 2023
Live online Q&A
On the 23 January 2023, a live online Q&A took place. The panel included:
Professor Sally Singh – programme director
Professor Amanda Daley – programme co-director representing Loughborough University
Frank Arsenyadis – Doctoral Training Programme fellow
Dr Sylvie Kilford – programme coordinator
During the event, the audience was able to pose their questions to our panel. Questions covered eligibility criteria, experiences on the programme, training and the application and interview process. View a recording of this programme.
---
October 2022
CoNavigator Tool event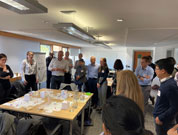 On Monday 17 October, we hosted a CoNavigator Tool event with the help of the Leicester Institute for Advanced Studies.
Gathering at College Court for a full day event, we hosted a mixture of senior researchers, early career researchers, community leaders and our first cohort of research fellows. Present were also researchers from our partner, Loughborough University.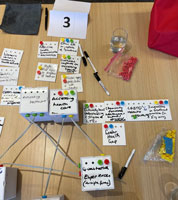 The CoNavigator Tool is a novel method of collaboration and brainstorming, developed by David Earle, Katrine Lindvig, Line Hillersdal from the University of Copenhagen.
The CoNavigator enables groups to work together in a tactile, collaborative space, using 3D visualisation of a theme or field. The particular advantage this method has over others, is that it enforces a democratic sharing of voices and space, so that everyone counts the same. It enables each member of the group to express their view, to cast their vote and to pitch their thoughts.
This seemed a perfect method of brainstorming ideas for research projects aimed at improving inequality in healthcare, because it encouraged our researchers, regardless of rank, to listen and to share ideas, in contrast to the traditional top down approach.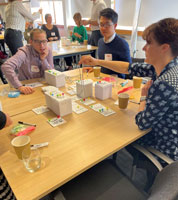 LHIIP Director, Professor Sally Singh said: "We were delighted to have such a high level of engagement in this event. We are anticipating a number of truly collaborative PhD proposals being submitted that address themes of health inequalities across Leicester and Leicestershire."
Projects will be reviewed after they are submitted on the 21 November, and the top ideas will be advertised in January 2023.
---
June 2022
The Leicestershire Healthcare Inequalities Improvement Programme Application Guidance webinar, led by Professor Sally Singh and Dr Claire Lawson was held. During this event, Professor Singh and Dr Lawson shared their advice on how to polish an application to the programme. Attendees were then invited to ask questions about the application process. A video recording of this event is available to view on our application help and advise page.