Upcoming events
2020-21
Each year we host a series of free seminars and lectures which is open to graduates, students, staff and members of the public. Find out about our 2020-21 series on this page.
For more information about events, contact Dr Paul Moore by email at pm294@le.ac.uk.
---
The 15th Annual Aubrey Newman Lecture
Speaker: Professor Omer Bartov (Brown University)
Date: 4 May 2021
Time: 6.00pm
Venue: Online Event, email pm294@le.ac.uk for link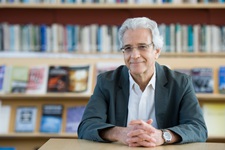 ---
'Migration, Memory and the Visual Arts' Symposium
Keynote speaker: Dr Glenn Sujo (author and curator of Legacies of Silence: The Visual Arts and Holocaust Memory, Imperial War Museum)
Respondent: Monica Bohm-Duchen (Insiders/Outsiders Festival)
Date: 7 May 2021
Time: 9.15 - 17.35
Venue: Online event
Registration
The symposium is open to all and free to attend. The event will take place on Microsoft Teams and the joining link will be sent out two days before the event. Registration is essential please visit EventBrite to book your free ticket.
For questions, please contact the organisers: Imogen Wiltshire (iw61@le.ac.uk) and Fransiska Louwagie (fl47@le.ac.uk)
---
Fascist Italy's Mediterranean Empire: from concepts to practices
Keynote speaker: Paolo Fonzi (University of Eatern Piedmont)
Respondent: David Rodogno (Geneva Graduate Institute)
Date: 26-27 May 2021
Venue: Online Event, email ak368@le.ac.uk for link
Download PDF of full programme. (PDF, 220kb)
For questions, please contact the organiser: Dr Alexander Korb (ak368@le.ac.uk)