The face of a king
After the Greyfriars bones had been scanned, a 3D scan of the skull was sent to the University of Dundee where the muscles and skin were modelled by Caroline Wilkinson, Professor of Craniofacial Identification at the University of Dundee, using a computer process known as stereolithography.
This work, which was commissioned and funded by the Richard III Society, resulted in a lifelike bust of the king which was shown on Channel 4 documentary Richard III: The King in the Car Park. The bust is exhibited in the King Richard III Visitor Centre in Leicester.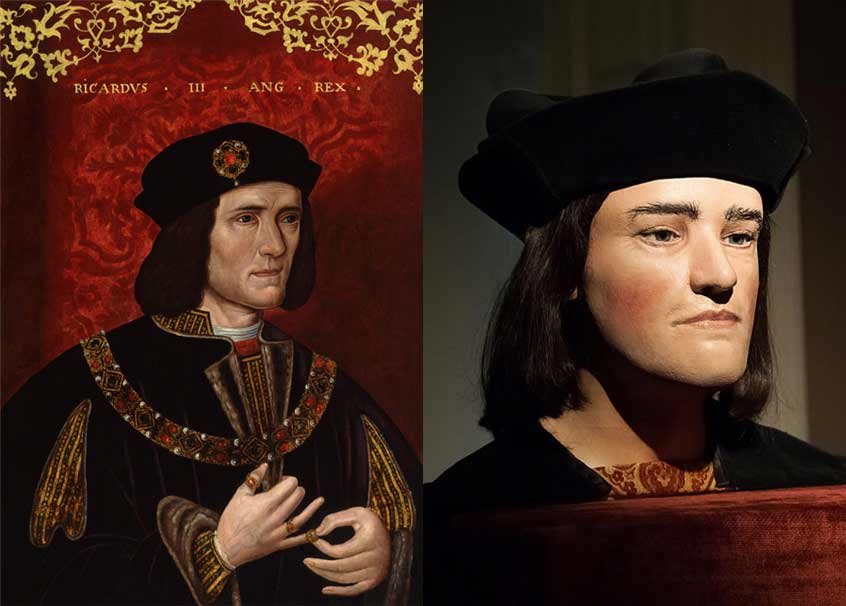 A painting of Richard III side by side with the facial reconstruction of Richard III produced by Professor Caroline Wilkinson formerly of the University of Dundee and funded by the Richard III Society.
Hair and eye colour – and the closest matching portrait
The DNA results showed that Richard III had a 96% probability of having blue eyes and a 77% probability of having blond hair. This would have been his childhood hair colour – it is possible that his hair-colour darkened with age. There are no contemporary portraits of Richard III, all of them post dating his death by some 25 years or more. There are two portraits which vie for being the earliest known portrait of Richard III: one of these in the Royal Collection and the second is in the Society of Antiquaries in London. Based on the genetic evidence, we suggest that the closest matching portrait is the one in the Society of Antiquaries which shows Richard III with blue eyes and lighter coloured hair than in the other portrait.
See more about what we know now and the genetic analysis