The University of Leicester has launched a campaign to showcase the breadth and excellence of ground-breaking research being undertaken, spanning some of the most critical issues of our time, from pandemics such as COVID-19, hate crime and societal inequality, health issues including diabetes and cardiovascular disease, and supporting the UK economic and environmental recovery post pandemic.
"Exceptional times need exceptional research and we believe that our experts – many of whom are world leaders in their field - are nothing short of exceptional," University of Leicester Vice-Chancellor and President, Professor Nishan Canagarajah said today.
"The University is undertaking research on some of the most pressing issues of our time – learning from our past, reacting to our present and unlocking potential answers for our future. Our historians are looking at our relationship with our past and the lessons we need to learn to foster progressive social change. Our researchers are working on today's global challenges, including pandemics, sustainability, hate crimes and supporting emerging and developing countries. Our scientists are exploring the future, addressing health challenges and common lifestyle diseases and supporting the UK's recovery through space and earth observation research.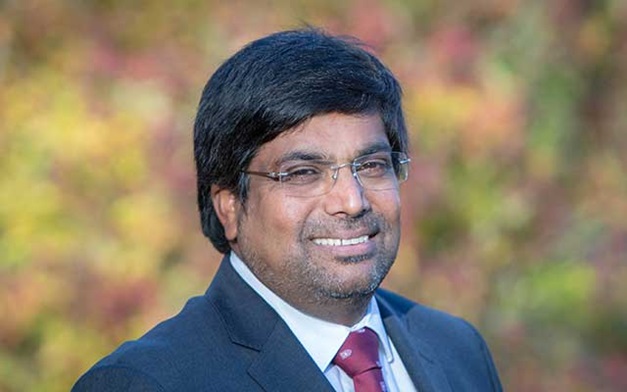 Together we are delivering knowledge and insights that are helping to change our world. By showcasing this we are hoping to inspire and excite our future students and the experts of tomorrow.
Research into COVID-19 has resulted in the University being in the top 3 of universities in the UK for funding into new research relating to the virus, including the largest national study into the long-term health impacts of COVID-19 led by Professor Chris Brightling with University of Leicester Co-Investigators, Professors Louise Wain and Rachael Evans, as well as ground-breaking research by Professor Kamlesh Khunti and Dr Manish Pareek, which exposed the link between people from the black, Asian and minority ethnic (BAME) community and COVID-19.
Additionally, the Leicester Diabetes Centre, globally recognised as an 'International Centre of Excellence' by the International Diabetes Federation and led by Professor Kamlesh Khunti and Professor Melanie Davies, has added its collective expertise to combatting the pandemic by establishing a Risk Reduction Framework for NHS staff who may be at risk of COVID-19.
With almost £40 million of competitively won funding secured annually on health-related research, the University has established its credentials when it comes to cardiovascular diseases, respiratory diseases, diabetes and cancer. For example, Dr André Ng, Professor of Cardiac Electrophysiology and Head of Cardiovascular Sciences, has revolutionised the way heart treatments and procedures are carried out, performing the world's first catheter ablation procedure using the Amigo Robotic Catheter System and another world-first remote heart procedure using a robotic arm alongside 3D mapping.
Aside from research on health and wellbeing, the University's research into social issues and injustice is world-renowned. The Leicester Hate Crime Project, led by Professor Neil Chakraborti and conducted over a two-year period, is the world's biggest ever study of hate crime victimisation, uncovering new insights into the nature and extent of hate crime and the impact these offences have on victims, families and wider communities.
Currently, the team at the Centre for Hate Studies are leading a range of new projects, including a study of hate crime in higher education and an analysis of domestic extremism and what draws people to the far right.
The University is also engaged in research aimed at improving the quality of life in developing and emerging countries. From fighting tuberculosis in South Africa, to using forensic DNA to bring justice for sexual abuse victims in Kenya and improving child mental health in Turkey, our research experts are strongly committed to delivering challenge-led research to support healthy and sustainable development.
Moving from the present to the future, the University is leading the way in space and earth observation research. Having discovered the first known black hole in our galaxy, Leicester space pioneers have built over 90 instruments launched into space, including instrumentation on six live space missions - more than any other UK University – and participated in the first European landing on a planet (Mars).
The University is leading the development of Space Park Leicester – a world leading cluster for innovative research and innovation in space and earth observation that is set to produce up to 2,500 jobs and contribute £715m GVA to the UK economy. By 2030, it is predicted it will have helped the Government secure £40 billion of revenue from the global market, increasing space sector jobs in the UK by 185%.
Data from space has also been critical for experts analysing the impact of man-made pollutants on health. From the University's long established study of air quality to its brand new Centre for Environmental Health and Sustainability, its experts directly advise Government on pollution and were the first to reveal the unprecedented effect the social changes relating to COVID 19 have had on air quality. Our environment and sustainability research enabled the University to be hailed as the first in the world for our contribution to the UN Sustainable Development Goal "life on land" as judged by the 2020 Times Higher Global Impact Rankings.
Finally, the University is also diving into our collective past, with the Research Centre for Museums and Galleries being at the forefront of transforming the way we tell our history by working with museums, galleries and heritage sites to enable them to become more accessible, inclusive and relevant, and to radically refocus their aims and ambitions in relation to social needs, concerns and challenges. This work includes 'Colonial Countryside', a collaboration with the National Trust which led to the first ever study of colonial connections among all the Trust's 300 properties, revealing that a third of them were directly linked to the British Empire.
"The breadth and scope of the research currently conducted at the University is phenomenal, and has never been more important as we strive to change lives and address the most pressing issues facing society. The people that make this research possible deserve just as much recognition, and we are proud to celebrate them and their achievements through our Citizens of Change campaign," Professor Canagarajah added.
"Diverse in our make-up and united in our ambition, our world-changing researchers have the insight, expertise and inspiration needed to shape our world, and it is important that we pass this knowledge and appetite for change on to the next generation. To all prospective students considering a university degree, join us, and help us shape the future, as it is ours to change," he said.