Cryo-EM facility access
External access to the facility is now mainly conducted by remote operation of the Krios, however visitors are still welcome. Users can ship frozen grids to the facility. Once a collection date is agreed, users can create a free TeamViewer account and log-in with a unique password to operate the Krios or participate in data collection setup, along-side our staff. No hand panels or additional hardware are required besides a large (>20") LCD screen. The quality and speed using this method is on par with being present at the microscope.
Monitoring of data collection can be done via TeamViewer and on-the-fly processing.
All users that collect data on the Krios are also granted at least 90 days of access (via SSH) to our high-performance GPU cluster to process their data (2 GPU allocation).
The Midlands Regional Cryo-EM Facility offers two modes of facility access by either hire of instrument or a data collection service:
Hire of equipment and training for research purposes: Researchers can submit a project proposal for the Hire of the Titan Krios. Once approved and a date of commencement is agreed, grids can be pre-shipped to the facility. The researcher can then login remotely or visit the facility to hire the equipment. The agreement covers the hire of the microscope, not the use of the facility. Due to the complexity of the microscope's operation and for health and safety reasons, training and supervision will be provided as part of the hire which is considered ancillary to the hire of the instrument.
Data collection service: Researchers can submit a project proposal for use of the Titan Krios. Once approved and a date for data collection is agreed, the researcher can ship frozen-hydrated specimens to the facility. Based on the agreed data collection strategy between the facility and the user, the facility staff will setup data collection accordingly. The user is not required to be present or logged in but is welcome to do so. The data and specimens will be shipped back to the user once data collection is completed.
Academic access
Please complete and submit the Project Application Form (Word, 27kb) to CryoEM@leicester.ac.uk. By doing so, you confirm your intention to publish your research results and undertake to do so in peer reviewed journals.
UK Academia - £1,700 per 24 hour session
International Academia - £1,800 per 24 hour session
Krios Screening- £170/hr (minimum 3 hours). Ideal for sample evaluation from small data sets using the K3 with up to 300 movies/hr.
Industry access
Please contact the CryoEM Facility for access and pricing arrangements.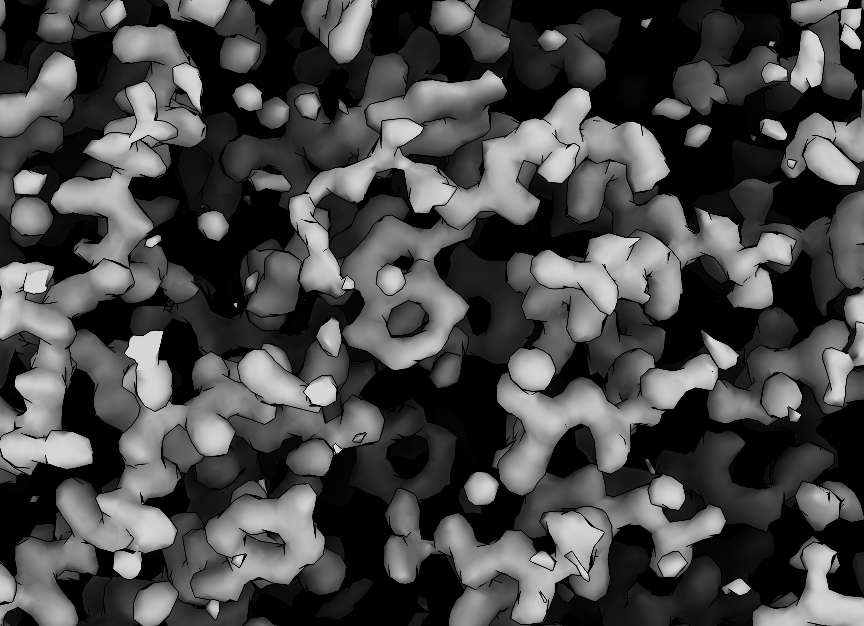 Closeup of the density of a 1.7Å map of apoferritin using the K3 from approximately 2000 micrographs and 300K particles.
Typical experiment schedule for Single Particle or Tomography
Day 1
9.00am - 10.00am: Shipped grids are clipped and loaded onto the Krios by facility staff
10.00am - 11.00am: The GIF is tuned and a new K3 gain reference is acquired by facility staff
11.00am - 2.00pm: User remotely selects suitable grids and squares for data collection
2.00pm - 4.30pm: EPU or Serial EM is setup on suitable locations
4.30pm - 5.00pm: Data collection is monitored and adjusted accordingly
Day 2
Monitor data collection and adjust accordingly (e.g. center zero loss peak or change phase plate slot)
Setup additional squares or areas for data collection if needed
Terms and conditions