Twelve interactive workshops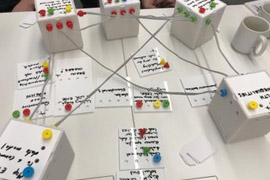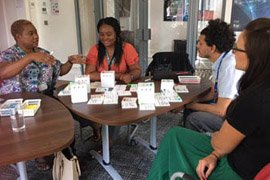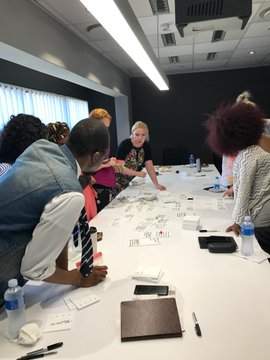 Workshops are an important way to identify priority themes in research and strategy, and help to establish roles and timings within a specified framework. At LIAS, we facilitate two workshop formats; the LIAiSon series, and the CoNavigator kit.
The LIAiSon series offers funding to support workshops and focused meetings, intended to bring together expertise across the University of Leicester to address important, timely research ideas and challenges. Topics can be thematic, methodological, or practice-focused, but must invite interdisciplinary thinking or ways of working. Please follow the application process (PDF, 143kb).
The CoNavigator kits are interactive collaboration and problem-solving tools designed and developed by an interdisciplinary team of researchers from the University of Copenhagen. Focusing on group-specific themes, they overcome innate challenges of interdisciplinary collaborations in a democratic format. They are available to hire for workshops, please e-mail lias@le.ac.uk to inquire further.
Workshop titles:
LIAiSon for 'FGM and Alternative Rites of Passage'
Dr Lotte Hughes, Professor Grace Wanja Wamue-Ngare, and Dr Damaris Parsitau discuss the complex issue of alternative rites of passage and their role in fighting female genital mutilation in Africa. Watch the Dialogues@LIAS video to learn more:
LIAiSon for 'Small Museums'
This collaborative project identifies the potential of small museums and the interaction between exhibits and the social issues of the communities they represent.
LIAiSon for 'Environmental Justice and Alternatives to Development in Latin America: Knowledge, Narratives and Cultural Production'
This will be held in March. Learn more about this event.
LIAiSon for 'LeMID: Bringing researchers together from the College of Life Sciences and the College of Social Sciences, Arts and Humanities, to explore future research collaboration'
LIAiSon Workshops 2020:
LIAiSon for ''Insect Allergens in Future Foods and Workplaces''
LIAiSon for 'Exploring Deep Learning Methods for Cracking the Dickens Code'
CoNavigator Workshops:
CoNavigator for REF environment statements
This CoNavigator session identified particular steps for DOAs to take in order to proceed with a cohesive draft statement by the February deadline.
CoNavigator for HDR UK future careers
Fellows at Host institutions nearing the end of their five year Health Data Research UK Fellowships were brought together to map out potential future projects and collaborations.
CoNavigator for South Africa project grant proposal
Bringing together academics from disparate disciplines and cultural backgrounds can be challenging, this session expedited the direction of the research project by offering a space to bring expertise forwards and discuss the priorities.
CoNavigator for CSE away day
The CoNavigator tool can be used for establishing strategy within a pre-seeded framework. Using the tool for colleagues from different departments brought fresh and varied perspectives into the strategy going into the New Year.
CoNavigator for 'User-Centred Design practices'
Using the tool for teaching offers a pragmatic and democratic approach towards thinking through a concept. With actionable takeaways, students are able to stake a claim in their ideas.
CoNavigator for "strategic themes for 19/20 with the Learning Community leads"
The tool can be used to unpack some of the driving factors behind successful mission statements for diverse demographics. By expanding on particular themes, the process speaks directly to the needs of focus groups.