Towards a mutable tool for a hybrid collaboration environment
Creators of CoNavigator and collaborators from the University of Copenhagen; David Earle, Katrine Lindvig, Line Hillersdal.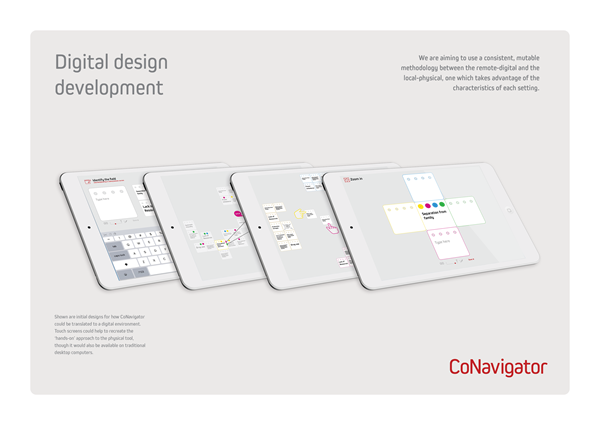 That it is the precise moment that interdisciplinary collaboration is most urgently needed when it is simultaneously most difficult to carry out is an irony not lost on many of us. And dramatic changes in how we collaborate in the workplace or learning facility in the space of just a few months has thrown into doubt what the norm will be in the future. But it is highly likely that most of us will operate in some kind of hybrid between the digital and the physical. At CoNavigator, we've been trying to envisage how we might best collaborate in that hybrid space.
We believe it's vital that both the physical and digital entities are addressed in equal measures. While on the one hand we need to take advantage of the opportunities for collaboration that a digital space can afford us, on the other we need to maximize the value of the time when teams are physically together. So instead of lurching towards a digital-only solution, we believe that a mutable physical/digital approach is the best strategy for improving interdisciplinary collaboration outcomes.
The physical CoNavigator tool has been designed to help teams arrive at pre-determined outcomes in a given time frame, aiming to maximize the value of time spent physically together. Assuming teams and larger groups become more judicious about how often they convene physically, a tool such as CoNavigator could enable them to improve the quality of those sessions.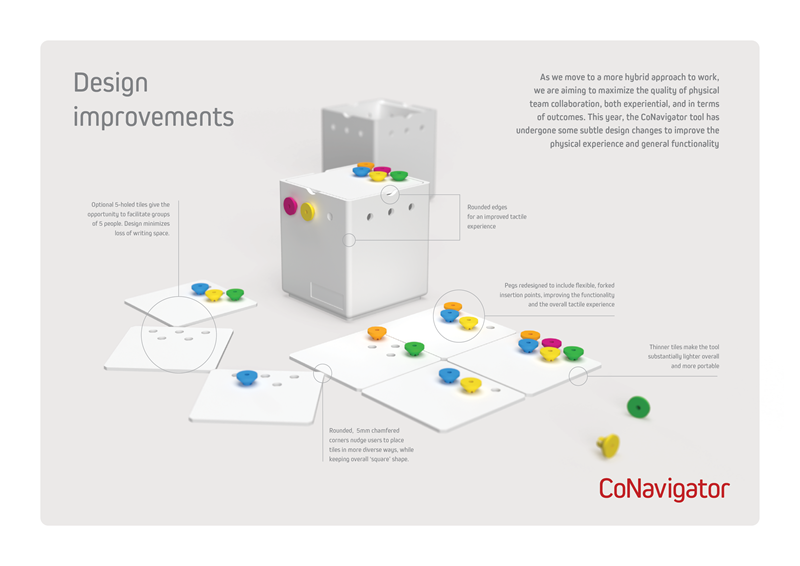 It is imperative, though, that these sessions can be either continued remotely, or even replaced entirely by an online alternative. We believe a single methodology which takes advantage of digital tools while remote, and the benefits of physical interactions when on location would be the best approach.
CoNavigator has been investigating ways of creating a digital add-on to the physical tool, and our most likely approach is to use existing technologies where possible and adding CoNavigator's logic and methods to these. It should be possible for the digital tool to be both the starting point of a session, or a continuation of a physical collaboration from earlier. Digital sessions will offer new benefits, such as transcriptions of participants' conversations, which could aid research into interdisciplinary collaboration.
The next step is to secure funding for the development of the digital tool, and we are hoping to collaborate as closely as possible with the LIAS team!
In the meantime, we have taken most of the production of the tool in-house, meaning that we can make improvements to the design much more quickly. If we are to achieve our goal of building a perfectly mutable collaboration tool, then both the physical and digital should be both a functionally effective and enjoyable experience. Remember how nice it was to work together?