Dr Polina Golovatina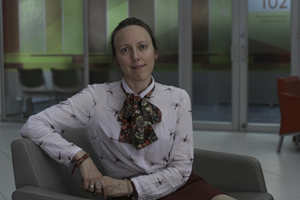 Polina Golovátina-Mora, PhD in History, is a Professor and Researcher at the School of Social Sciences at Universidad Pontificia Bolivariana (Medellín, Colombia). Her research covers the intersections between narratives, language, and power, themes of qualitative research methodology, urban studies and environmental thought. She was a grantee of a number of fellowships, including Fulbright Graduate Scholarship (University of Illinois), AFP Open Society Returning Scholar Fellowship, Robert Bosch Tandem Program and pursued her studies in the United States, Poland, and Russia. She has published articles in Russian, English and Spanish.
For this fellowship, she will further develop the collaborative interdisciplinary work between University of Leicester and Universidad Pontificia Bolivariana (Medellin, Colombia) on exploring the popular perceptions of the air contamination in Medellin, Colombia. While the monitoring system is well developed, the problem is recurrent in the metropolitan area and, in addition keeps on polarizing the society. The discussion has a seasonal and sensational character and creates the feeling of saturation in general public that often inhibits building alliances, cooperation and the efficiency of environmental actions and policies. There is also relatively low understanding and true interest in the problem; the treatment of the problem is focused on the certain aspects and the complex approach is ignored, which also becomes an obstacle in building civil and academic alliances. The Fellowship will explore the creative multisensory ways of addressing the environmental problems and understanding the environment and air in particular that could become a basis for developing more efficient strategies for public environmental education and eventually environmental policies.