Charlotte Carter-Lang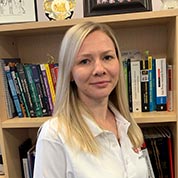 Charlotte graduated from Coventry University in 2008 with a first class honours degree.
After completing her junior rotations Charlotte moved into a senior post in Community Practice initially treating neurological and respiratory conditions before becoming a Clinical Specialist in Cardio Respiratory Physiotherapy. She is a member of the ACPRC (Association of Chartered Physiotherapy in Respiratory Care) and has a specialist interest in the management of patients with COPD and Heart Failure. Additionally, Charlotte is the Principal Physiotherapist of a private community practice treating patients with Neurological and Cardio Respiratory conditions.
Charlotte began working as a Physiotherapy lecturer at the University of Leicester in 2013. She is the Practice Education Lead, Year 2 Lead Tutor and CPR Lead for the Physiotherapy BSc Hons Undergraduate Degree Programme. Since commencing her post at the University Charlotte has developed an interest in the use of simulation in Cardio Respiratory teaching and Education and completed her dissertation for her PGCAPP and FHEA in this area. Charlotte is currently completing her Master of Education and is researching the barriers and facilitators to educators offering clinical placements.
Research interests
Clinical/Practice Education
Simulation
Education in Cardio Respiratory Physiotherapy
Enhancing student performance through innovative teaching approaches - PBL/Flipped classroom
COPD management and treatment
Heart failure management and treatment
Pulmonary rehabilitation
Cardiac rehabilitation