Equality, Diversity and Inclusivity
The School of Physics and Astronomy is committed to providing a culture of equality and diversity and ensuring a working environment which is welcoming and inclusive to all. Our aim is to ensure that equality, diversity and inclusivity is embedded in all aspects of our activities and business.
We promote the University's equality, diversity and inclusivity strategy, seeking to ensure all staff and students within the School are made aware of the strategy and policies and can contribute back to and influence the University.
University support for staff and students can be found in the Dignity and Respect webpages and the Report and Support webpages (specifically for students). Members of the University can find out more about our work on Sharepoint.
The School of Physics and Astronomy adheres to the Equality Act 2010 and to the University's Dignity at Work Policy, and is fully committed to achieving all the equality objectives defined by it.
EDI Activities within the School
The Equality, Diversity and Inclusivity (EDI) Committee is one of the key working groups within the School structure, which allows it to liaise with all other aspects of School life, to embed EDI widely.
The EDI Committee has a wide range of responsibilities: from reviewing and improving processes to celebrating the achievements and diversity of our staff and students. The Committee is comprised of people from all groups within the School, ranging from the Head of School and academic staff, researchers, professional services staff, technical staff and postgraduate and undergraduate students. With a wide range of experiences and expertise, committee members care about the issues and are committed to making a positive difference. Meetings are held monthly and comments and questions are invited from all staff and students.
The group can be contacted directly by email.
You can keep up to date with all of our events and activities related to EDI within the School of Physics and Astronomy via our blog.
Project Juno

The School of Physics and Astronomy is an IOP Juno Practitioner. The aim of Juno is to recognise and reward departments that can demonstrate they have taken action to address the under-representation of women in university physics and to encourage better practice for both women and men.
For more information visit the Project Juno website.
Athena SWAN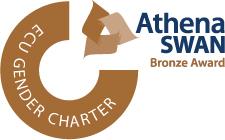 The School of Physics and Astronomy is committed to providing a good working environment for its staff and, since 2013, has been a Bronze Award holder within the Athena SWAN scheme.
This national award is in recognition of our actions that have already been put in place, the impact they have had, and of our future plans to address gender inequality. This positive action in the form of good practice that arises from implementation of the Athena SWAN ethos is of benefit to everyone in higher education, irrespective of gender.
Find out more about Athena SWAN at the University of Leicester.