Dr
Gebril El-Fallah
Lecturer in Mechanical and Materials Engineering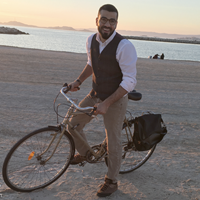 Profile
Gebril was appointed as Lecturer in the Mechanics of Materials Group within the University of Leicester's School of Engineering in early 2022. Before arriving in Leicester, Gebril completed a bachelor's degree in Mechanical Engineering (2013) and a master's degree in Nuclear Engineering from Imperial College London (2015) followed by a PhD at University of Cambridge (2019), where he worked in the Phase Transformations and Complex Properties research group. He was a Research Associate in Cambridge for one year following his PhD, a Teaching Fellow and a Director of Studies at Wolfson College, Cambridge. Gebril also holds a Fellowship of the Higher Education Academy (FHEA).
Research
Gebril's research interests span a broad range of fields in materials and metals. His main expertise is in bainitic steel where he designs new alloys for energy efficient automotive and aerospace applications and looks at the mechanism of structural evolution leading to ultimate failure, in what is the world's first bulk nanostructured steel.
Publications
(0) Please see my google scholar profile at: https://scholar.google.co.uk/citations?user=lLhvsj8AAAAJ&hl=en.
Supervision
Applicants are welcome from those interested in PhD research relating to:
Chemistry and process ferrous alloy design.
Thermodynamics, kinetics and mathematical modelling.
Phase transformations.
Microstructural and mechanical advanced characterisation techniques.
Creep-Resistant Steels (austenitic, ferritic and martensitic).
Titanium alloys.
Nickel and cobalt based superalloys.
Teaching
I have delivered courses for a wide range of subjects, including:
Atomic Structure of Materials
Crystallography
Fracture and Fatigue
Materials
Materials processing and design
Mathematics
Mechanical Behaviour of Materials
Metals and Alloys
Solid Mechanics
Steels
Structural Mechanics
Superalloys