Dr
Arwen Joyce
Lecturer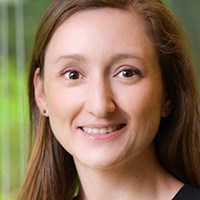 Profile
I joined Leicester Law School as a Graduate Teaching Assistant in September 2017 and took up a lectureship in January 2021. I previously practiced law with Linklaters LLP in London and Singapore and lectured at Singapore Management University. I received a BA from the University of Virginia, a JD cum laude from Georgetown University, an LLM with merit from the London School of Economics and a PhD in Law from the University of Leicester. I am a non-practicing member of the New York Bar and a Fellow of the Higher Education Academy.
Research
My research interests include migration law, labour law and legal education. My doctoral thesis analysed the legal structure of temporary migrant worker programmes and implications for low wage temporary migrant workers' rights with a focus on East and Southeast Asia.
Publications
Maribel Canto-Lopez, Arwen Joyce, and Nataly Papadopoulou, 'Legal Skills for Citizens of Change Conference at University of Leicester explores legal skills from multiple perspectives' (2023) Association of Law Teachers Blog, available at http://lawteacher.ac.uk/alt-blog-2/.
Victoria Ball, Arwen Joyce and Charlotte Mills, A Small Group Teaching Best Practice Guide Grounded in the Student Voice (Association of Law Teachers 2023) <http://lawteacher.ac.uk/about/alt-publications/> (accessed 14 June 2023).
Arwen Joyce et al, 'SLSA Precarious Employment Survey Report' (2023) Socio-legal Studies Association <https://www.slsa.ac.uk/index.php/8-test-temp/419-slsa-precarious-employment-report (accessed 14 June 2023).
Victoria Ball and Arwen Joyce, 'A Teaching Best Practice Guide for Early Career Academics in UK Law Schools Grounded in the Student Voice' (2022) 3 European Journal of Legal Education 69.
Arwen Joyce, Becoming a critical thinker (2021) 55 The Law Teacher 559.
Victoria Ball, Arwen Joyce and Charlotte Mills, '"They Just Have More of a Vibe of Being 'One of Us'": Undergraduate Law Student Perceptions of PhD Tutors' (2020) 54 The Law Teacher 327.
Arwen Joyce, '#VirtualSLSA2020: South Korea's Employment Permit System: Policy Innovations and Power Dynamics' (2020) Socio-Legal Studies Association Blog, available at http://slsablog.co.uk/blog/blog-posts/south-koreas-employment-permit-system-policy-innovations-and-power-dynamics/.
Arwen Joyce, 'Working Across Borders: The Limits of Labour Law for Low-Wage Temporary Migrant Workers' (2019) 5 Revista Estudos Institucionais 699.
Tamar Ezer, Arwen Joyce, Priscila McCalley and Neil Pacamalan, 'Protecting Women's Human Rights: A Case Study in the Philippines' (2011) 18 [3] Human Rights Brief 21.
Arwen Joyce and Tracye Winfrey, 'Taming the Red Dragon: A Realistic Assessment of the ABA's Legal Reform Efforts in China' (2004) 17 Georgetown Journal of Legal Ethics 887.
Supervision
I welcome supervision requests in topics related to the rights of migrants and/or economic migration, in particular the rights of low-wage migrant workers and regulatory approaches to low-wage labour migration. I am especially interested in supervising projects that take a socio-legal, comparative and/or interdisciplinary approach.
Teaching
Undergraduate
Immigration Law
Analysing Law
Tort Law
Postgraduate LLM
International Migration and Refugee Law
Awards
Erasmus+ Staff Mobility Funding: £2,460 (May 2022) Funded research exchange to the University of Witwatersrand in Johannesburg, South Africa.
Invited Speaker: 'Impact of the pandemic on migration', Panel on Migration in Changing Times, 2020 Leicester Human Rights Arts and Film Festival (December 2020)
Modern Law Review Seminar Fund: £1,591 (Jan 2020) With Professor Bernard Ryan. Funding to host a one-day workshop at the University of Leicester titled 'Migration and Exploitation in Employment: Concepts, Designs and Responses'.
Association of Law Teachers Research Grant: £1,000 (Aug 2019) With Vicki Ball and Charlotte Mills. Funding to carry out empirical research on effective law tutorial delivery and disseminate results.
Chris Gale Memorial Prize for Best Joint Paper: £250 (Apr 2019) With Vicki Ball and Charlotte Mills. Awarded for the best joint paper presented at the Association of Law Teachers Conference 2019.
Conferences
Arwen Joyce, 'An ethical assessment of temporary migrant worker programmes that foregrounds migrant workers and their interests', Socio-Legal Studies Association Conference, Managing and Protecting People on the Move Stream, York University (Apr 2022)
Arwen Joyce, 'Migration law perspective: Prioritising migrant workers' interests in low-wage temporary migrant worker programme policy reform', Symposium on Agency, Community, Kinship: Representatives of Migration Beyond Victimhood, University of Wuppertal (Feb 2022)
Arwen Joyce, 'A typology of low-wage temporary migrant worker programmes in East and Southeast Asia', Socio-Legal Studies Association Conference, Managing and Protecting People on the Move Stream, Cardiff University (Apr 2021)
Arwen Joyce, 'Low-Wage Migrant Workers in South Korea: Policy Innovations and Power Dynamics' Society of Legal Scholars Graduate Conference, University of Exeter (September 2020)
Arwen Joyce, 'The limits of labour law and low-wage temporary migrant workers in Asia' Society of Legal Scholars Conference, Migration Law Stream, University of Central Lancashire (Sept 2019)
Arwen Joyce, 'The law and low-wage migrant workers in Asia' TWC2 Research Forum, Singapore Management University (Aug 2019)
Arwen Joyce, 'Working across borders: labour law theory and low-wage migrant workers' Socio-Legal Studies Association Conference, Exploring Legal Borderlands Stream, University of Leeds (Apr 2019)