Leicester Innovation Hub is 'wonderful and transformative'
Civic leaders highlight vital partnerships between University, City and County.
The launch of a new Innovation Hub in Leicester has been hailed as a wonderful and transformative addition to the region by City Mayor Sir Peter Soulsby.
Speaking at the launch of the University of Leicester's new resource for business and industry, Sir Peter stressed the interdependence of the city, county and the University.
He highlighted how University of Leicester graduates populated many of the innovation centres in the city and provided a pipeline for firms in Leicester.
"What happens here, and what happens in the University, is of vital importance to the city and county. The Innovation Hub will nurture great ideas and turn them into reality."
Sir Peter spoke of the city historically lacking in self-confidence and not being assertive enough about its merits despite being the biggest city and economy in the region.
"We are very proud of the University of Leicester and its achievements across a huge range of fields, including space and genetics," he said.
Sir Peter said an important facet of Leicester was that there were already many centres where innovation was happening and which were very well represented by Leicester graduates: "They are in there. They are doing things in the city, they are making a difference. And they are establishing new enterprises and joining existing ones, helping them to grow."
Sir Peter described how the regeneration of Leicester was bringing new businesses to Leicester and creating space for graduates to live in and work. Indeed, he said, many businesses came to Leicester significantly because of the graduate pool that was on offer.
There are a lot of things out there making Leicester prouder of itself and more self-confident. Above all, there is a recognition that Leicester is a good place, a place where there is a lot to be proud of and where there are already a lot of amazing things happening. A place that has got an opportunity to build on what is happening here at the University of Leicester."
Sir Peter spoke of major companies that have come to Leicester and which recruited University of Leicester graduates –negating the need for graduates to go to Birmingham or London.
He also cited the National Space Centre stating that it was in Leicester because of the University of Leicester. Space Park Leicester, a part of Pioneer Park, was also down to the University he said: "All these good things are here in Leicester because of the University of Leicester, its graduates and the commitment of its staff. The Innovation Hub provides a wonderful opportunity for us to talk about not only what has happened, but what can happen and what the future holds for Leicester.
"The Innovation Hub allows businesses to access the research and facilities of the University. We in the City and County are committed to working with the University to ensure graduates stay in Leicester, and to get the full benefit of the academic and research work of the University, with this Innovation Hub being the continuation of an already existing and very exciting programme.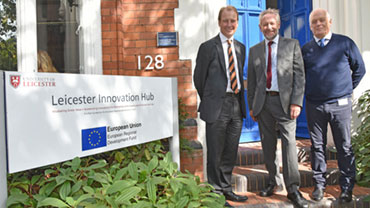 "It helps us to transform a city and county that is thriving, growing in confidence, that is already getting a lot of good investment - but above all, it is an opportunity for us to continue to work with the University, its staff and students in engaging with the city today and helping us to shape the city and county in the future."
County Council leader Councillor Nick Rushton highlighted investments being made by the Council to improve housing availability, transportation, digital infrastructure and business opportunities.
Retaining graduates and their knowledge and innovation was particularly important and he said the County Council was investing in high quality managed workspace to support new and growing businesses as a priority.
He added that the fact the three universities in the city and county complemented each other and worked together was a strength, citing the two national Enterprise Zones and the UK's first Life Sciences Opportunities Zone of which the University was also a part.
Nick Rushton, Leader of Leicestershire County Council, said: "The new hub is an amazing facility. It is truly a fantastic addition to the high quality workspace that we can already offer within the city and county.
"Supporting graduates and new businesses is key. Any by creating high quality work space, building new homes and investing in transport and digital infrastructure, the county council is doing everything it can to create a local and skilled workforce fit for the future.
"The hub demonstrates our collective ambitions to retain and nurture the local entrepreneurial talent emerging from our universities and help them grow into our high performing businesses of the future."
President and Vice-Chancellor Professor Paul Boyle described the role of the Innovation Hub and how the University was committed to supporting business, innovation and enterprise. He highlighted the role of Innovate UK and also the work of the Institute for Advanced Studies based at the Hub. He described the Innovation Hub as a 'front door' for business to access the resources and expertise of the University and as a launchpad for graduate talent to innovate and develop their entrepreneurial skills.
Director of the Leicester Innovation Hub Dr Stephan Reiff-Marganiec described innovation as 'serendipity' that was helped by putting the right people together in joint spaces. "The Leicester Innovation Hub is designed to make it easier for businesses and entrepreneurs to access the University of Leicester's research, technologies and facilities to jointly realise business aspirations through innovation, research and development," he said.
Welcoming everyone, Head of Regional Business Engagement Anjuu Trevedi, 'MC in the House' said: "how pleased she was that the Leicester Innovation Hub was officially launched, the realisation of which is the result of a whole host of people's hard work and vision. She went on to say the Leicester Innovation Hub's vision is to provide a dynamic innovation framework where new ideas and businesses are germinated, incubated and grown in partnership."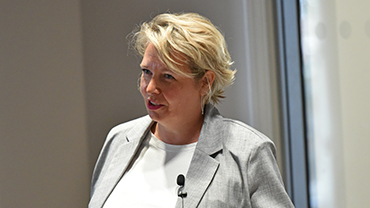 Keynote speaker K D Adamson (pictured, left) – Innovation and Technology Futurologist added: "I am delighted to see this level of investment in an innovation centre as I think people have the wrong impression of innovation. They think it is woolly and they are not really sure what it is for. To see a very clear outline here that brings together research, cutting edge academics and businesses with millennials and Gen Zs and young people is key. This investment here is not just in technology –its in people."
The Leicester Innovation Hub is part-funded by the European Regional Development Fund - ERDF grant £2.5m and University investment £2.5m. Leicester's Innovation Hub team will help deliver the following outputs over three years as part of the ERDF project:
180 SMEs Innovation supported from Leicester and Leicestershire, of which:

75 companies will additionally collaborate with the University
70 SMEs will become Innovation Active
16 will launch new products or services
30 will introduce new processes or technologies

25 new early stage/start-up enterprises supported
20 new graduates businesses incubated
15 new jobs created in SMEs
Through the Leicester Innovation Hub ERDF funded project, qualifying businesses based in Leicester and Leicestershire could be eligible for free or heavily subsidised innovation support, thanks to part-funding from ERDF i.e. those employing fewer than 250 staff, with turnover less than 50 million euros and/or have a balance sheet of less than 43 million euros and have received less than 200,000 euros in public grants in the last three years. Plus qualifying students and graduates can also access 'hot desk' space and business start-up support (funding, coaching and mentoring) i.e. those that have recently qualified, have identified and wish to explore the feasibility of starting a new business and have a viable business plan.
The launch event was attended by entrepreneurs, innovators, innovation supporters and champions, and academics and students. It featured displays of innovation and technologies, including a state-of-the-art autonomous driving vehicle (Audi Q2 scale 1:8). University of Leicester Informatics students are among only ten teams selected from across Europe to compete in the Audi Autonomous Driving Cup 2018- where the next generation of innovators will demonstrate how they could help to shape the future of autonomous vehicle technology. This is the latest competition where University of Leicester students demonstrate their expertise on autonomous vehicles. In July, a team of Engineering and Informatics students joined the first UK Formula Student Artificial Intelligence competition on the famous Formula One race track in Silverstone.