Protecting endangered animals from illegal wildlife trade using mobile DNA sequencing
University of Leicester researchers presenting innovative DNA analysis methods for testing samples to find species-of-origin at the Illegal Wildlife Trade Conference between 11-12 October
Tests are being developed by University of Leicester researchers to fully automate DNA analysis of biological samples to determine their species-of-origin using the MinION (portable DNA sequencing technology by Oxford Nanopore Technologies)
A pilot study was conducted using eel DNA. Equivalent tests can be applied to any fresh biological material regardless of species
The sequencing devices will be presented by the team at the Illegal Wildlife Trade Conference organised by the UK Government between 11th - 12th October
The team will also present the technology at the preceding Evidence to Action: Research to Address Illegal Wildlife Trade workshop at London Zoo on 9th October
Researchers from the University of Leicester are developing new approaches to species identification which are helping to tackle the multi-billion dollar global illegal wildlife trade.
University of Leicester and industrial collaborator Oxford Nanopore Technology are developing test methods which will allow for on-site nanopore DNA sequencing of wildlife products at the dockside, in markets and at customs posts using Oxford Nanopore's portable sequencer.
This enables species-of-origin identification of suspicious and potentially illicit wildlife products where they are sold and as they travel between countries.
The innovative technology will be displayed by the team at the Illegal Wildlife Trade Conference in London between 11 – 12 October organised by the UK Government, where visitors will be able to get hands-on with the devices.
The MinION is an affordable and portable USB-powered DNA sequencer that has the potential to identify the species-of-origin of a wildlife product such as fresh fish and bushmeat in around an hour, and is used with sample preparation devices designed to allow non-scientists to prepare samples outside a laboratory environment.
Together, these technologies are intended to fully automate DNA analysis from applying an original sample of blood or tissue to comparing the analysis results in real time with a reference database of species-specific barcode gene sequences.
The University of Leicester team includes Dr Celia May, Dr Jon Wetton and PhD researcher Orie Shaw from the Department of Genetics and Genome Biology. The work builds on Dr Wetton's prize-winning Concept Note to the USAID Wildlife Crime Tech Challenge in 2016.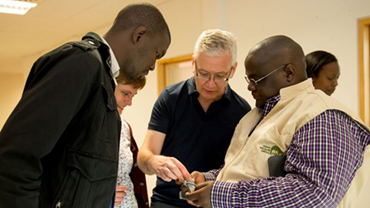 Dr Wetton (pictured) said: "Oxford Nanopore's portable DNA sequencers are getting more robust and powerful and will help us tackle so many different aspects of wildlife crime, not just in countries that can afford expensive technology but also in the developing world where the need to protect their resources is greatest."
A pilot study using the devices was conducted successfully using eel DNA – and the team is confident that this test will work equally well on DNA from any fresh biological material regardless of species.
Orie, who is developing the test as part of a BBSRC-MIBTP iCASE studentship sponsored by ONT, said: "Eels are Europe's equivalents of ivory in terms of their blackmarket value. Tiny juvenile eels caught in European rivers are exported to East Asia often fraudulently labelled as other legally-traded species where they are grown to maturity in fish farms and then sold as a luxury food. They were once a cheap meal for the poor, now European eels are classified as critically endangered, the same as rhinos and even higher than African elephants.
"With a kilo of juvenile eels worth more than $10K once mature, they have attracted the interest of organised trans-national crime networks and are suffering the consequences of severe over-exploitation."
Dr Celia May, who will be attending the IWT conference and displaying the test with the rest of the team, said: "We hope to be ready to test shipments passing through European airports next year as an example of how this revolutionary technology can combat wildlife crime and are keen to explore other applications suggested by conference participants."
The Illegal Wildlife Trade Conference (11 – 12 October) brings together global leaders to help eradicate illegal wildlife trade and better protect the world's most iconic species from the threat of extinction.