Outside and beyond: Girl. Boy. Child: a poignant queer tale for our times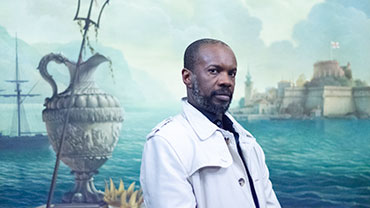 The idea for Girl Boy Child was first conceived over 2 years ago. I was working with the National Trust on their LGBTQ national public programme, Prejudice and Pride, and I pitched to the team there, a very sketchy outline for a different kind of performance – one that would be shaped by new research across the Trust's sites and would give visibility to lesser known queer/LGBTQ lives. The idea was ill formed but I had a very clear idea of the person who could potentially make it happen – performer, singer and art historian, David McAlmont.

I had been a fan of David's music and writing for many years and felt his extraordinary capacity to tell rich stories and to move audiences was perfect for the project. It was only when I got the go ahead from the National Trust that I reached out to David and not without considerable trepidation. I think he was initially bemused by this seemingly random approach from a museum studies professor but, amazingly, he agreed to meet and soon agreed to collaborate. We began to research, visiting Trust properties with LGBTQ connections and were inspired by the sites, collections, staff and volunteers at three places in particular - Kingston Lacy in Dorset, Smallhythe in Kent and Plas Newydd on Anglesey.

Following our visits, David immersed himself in the British Library, sourcing rich material about the lives and times of three queer pioneers we had encountered on our visits and who became the focus for Girl Boy Child. As the unusual performance took shape, we brought in artist Julie Howell to research images and create a stunning visual accompaniment and graphic designer Anna Lincoln to develop a compelling visual identity.
The final show that emerged is quite difficult to describe – an unconventional blend of poetry, song, historical research and image. It tells the story of three extraordinary individuals. Christopher St John – a writer and suffragist who lived at Smallhythe in a lesbian ménage a trois with Edy Craig and Tony Atwood. William John Bankes - traveller, collector and talented draughtsman – who fled England in 1841 after being caught with a soldier in what was termed 'an indecent act'. This was the second time William had been caught and to avoid the very real possibility of execution by hanging – a fate at least 51 other men had suffered during William John's lifetime – he went into Exile. Finally, the enigmatic Henry Cyril Paget, 5th Marquess of Anglesey - who lived at Plas Newydd in North Wales devising, performing and touring numerous plays. Henry married a beautiful young woman but his apparently unconsummated marriage was dissolved in 1900. We don't know if he had affairs with men - the family papers were destroyed - but he was once described as 'a notorious homosexual' because of his theatricality and his love of dressing-up and cross-dressing.
Girl Boy Child took shape during a period when we've seen a bright spotlight on queer histories, unprecedented in scale. 2017 saw more museums, galleries and heritage organisations explore LGBTQ themes than ever before. But in that same period we also saw a fierce backlash against this increased visibility. We saw a rise in homophobic hate crime and an unleashing of vitriol against transgender people which continues today - reminding us that celebrating difference in the present day –– is an undeniably political act.

Girl Boy Child is our collective attempt to push back against the forces – the prejudice and stigma that have actively obscured, suppressed and silenced queer lives not only in museums, galleries and heritage sites but more broadly in the public realm - and which continue to do so. If you are interested to learn more, visit the RCMG website - https://www2.le.ac.uk/departments/museumstudies/rcmg/projects/prejudice-and-pride-1/girl-boy-child

Professor Richard Sandell