David Wilson Library changes for 2023-24
If you're returning to the David Wilson Library for the first time since the Summer, you will notice a few changes to areas of the building for the start of the academic year.

With expanded space for our Centre for Academic Achievement, changes to IT facilities and study spaces and a quiet room to read and relax, this page explains what's new for 2023/24.
Centre for Academic Achievement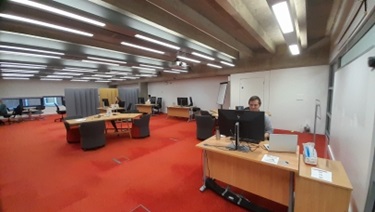 The Centre for Academic Achievement is the new name for the Academic Skills Centre. Based on the Ground Floor of the Library in the former IT Room 1, the Centre offers support with academic and mathematical skills through one-to-one consultations, online support, workshops and writing drop-ins. During staffed hours you can drop-in to learn more, chat to a member of the team, book a consultation and even play with some Lego! The room is open 24/7 and can be used as a quiet study space outside of staffed hours.
1st floor PC lab
On the 1st floor of the building, you'll find a new large PC lab for class sizes up to 150 students. This facility increases the number of fixed PCs within the Library from 302 to 332. During timetabled hours, the room will be used as a teaching space. Outside of these times, the PCs are available for individual use.
Looking for your next good read?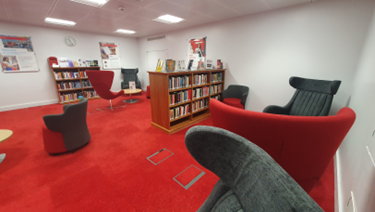 The Library's Leisure Reading Collection has been built on student recommendations and includes many titles by underrepresented authors. The collection contains a range of genres including graphic novels, biographies, popular science, contemporary fiction and more. This collection can be found on the ground floor next to the Rhoda Bennett Reading Room, a small space for you to relax from your studies. If you can't find the book you're looking for, you can always recommend a title by filling in a postcard or using our online form.
Accessibility improvements
As part our of ongoing work to make the Library a more accessible building, we have installed automatic doors into the Silent Study areas on each floor.
Doctoral College Reading Room
The Doctoral College Reading Room (DCRR) is located on the first floor of the University library and is available for use by all University of Leicester Postgraduate Research Students (PGRs) and University staff. The DCRR is a dedicated study space and you will need to scan your student or staff ID to access the DCRR. Once you're inside, there are a range of study spaces, including two group study rooms. In 2023/2024 we will be making some changes to both the formal and informal study space and furniture in this area, in consultation with our PGR community. Watch this space!