COPD-ST2OP Trial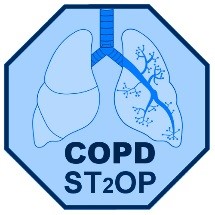 Contacts
Email: COPD-ST2OP@leicester.ac.uk
Key Information
Trial Title
A randomised placebo-controlled trial of anti-ST2 in COPD (COPD-ST2OP)
Chief Investigator
Professor Chris Brightling
Sponsor
University of Leicester
Funder
Genentech, San Francisco, California
Trial Registration Number
ClinicalTrials.gov Identifier: NCT03615040
Summary
COPD or chronic obstructive pulmonary disease is a significant cause of illness and death worldwide. It is associated with sudden worsening of symptoms which can lead to hospitalisation, such as shortness of breath and a chesty cough with phlegm that never seems to go away. We do not fully understand the cause of COPD but if we can find out, it will help to design the best treatment for the disease.
An exciting new trial called COPD-ST2OP is comparing Anti-ST2, an experimental and currently unlicensed drug, with a placebo ('dummy drug') to treat COPD. Participants will receive the treatment by infusion under the skin once every four weeks for 48 weeks. They will also undergo a series of tests and assessments (e.g. spirometry, sputum, nasal and breath samples and a CT scan of the chest) to assist the research team to understand how the treatment affects their health status, respiratory symptoms, lung function and airway inflammation. Participants will be evaluated for an additional 12 weeks following completion of the randomised treatment period.
The main aim of the trial is to evaluate whether Anti-ST2 will impact on airway inflammation in COPD and therefore reduce the frequency of exacerbations (i.e. flare-ups of symptoms). For the purposes of this trial, exacerbations are defined as flare-ups of symptoms involving the use of healthcare resulting in treatment with steroids and/or antibiotics and/or hospitalisation or death due to COPD.
Number of Participants
A total of 80 participants will be randomised in a 1:1 ratio, meaning 40 will receive Anti-ST2 and 40 will receive placebo.
Trial Design
This is a single-centre trial taking place at the Leicester Biomedical Research Centre- Respiratory at Glenfield Hospital.
It is a double-blinded randomised controlled trial, meaning neither the participants nor the researchers administering the treatments know which group they have been assigned to until the end of the trial.