Our community
Our staff come from across Leicestershire, the Midlands and the globe bringing with them an incredible diversity of viewpoints, beliefs, attitudes and approaches which enrich both the University and the city.
With more than 4,000 staff working in a wide range of roles across teaching, research and professional services and that are both campus and non-campus based, we can offer a career path that truly exceeds expectation.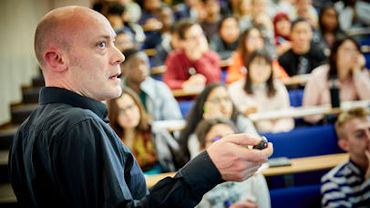 Our Values
Diverse in our makeup and united in our ambition, we change lives through education and research. Our vision is to provide inspiring education and research, working in partnership with our communities to become a truly inclusive University.
We achieve this by sharing the same University values:
Inclusive – We are diverse in our makeup and united in ambition. Our diversity is our strength and makes our community stronger.
Inspiring – We are passionate about inspiring individuals to succeed and realise their ambitions. We challenge our community to think differently, to get involved, and to constantly embrace new ideas.
Impactful - As Citizens of Change we will generate new ideas which deliver impact and empower our community