ESTA course and conference Leicester 2022
ESTA is coming to 'LES-TAH'. The School of Geography, Geology and the Environment, University of Leicester is delighted to be hosting the 55th Earth Science Teachers Association (ESTA) Annual course and conference.
'The Future of Geology'
Friday 23 September to Sunday 25 September 2022
Network event to learn and share Earth Science teaching ideas.
Exam board training by Eduqas and OCR.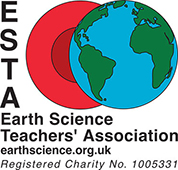 ESTA are a network of teachers, educators and partners working to support and improve teaching of Earth Sciences at all levels in the UK.
Further details please contact ESTA Conference Manager: Amy Musker-Heaton (Conference Manager) via: estaconf21@gmail.com