Publications
Rural History
This journal is edited from the Centre by Professor Keith Snell and is published by Cambridge University Press. Rural History appears in two issues per year and includes articles, book reviews and review articles.
English Local History: The Leicester Approach. A Departmental Bibliography and History, 1948-1998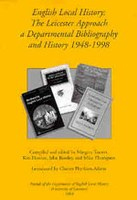 Compiled and edited by Margery Tranter, Ken Hawker, John Rowley and Mike Thompson. Introduced by Charles Phythian-Adams (Friends of the Department of English Local History, 1999).
Available from the Secretary of the Friends of the Centre for English Local History.
English Local History at Leicester: A History and Bibliography is a free bibliography of more recent publications of staff, students and Friends of the Centre from 1999 to 2008 compiled by Mike Thompson, Pam Fisher and Alan Fox.
The Story of Leicester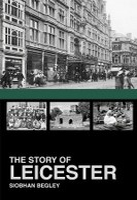 The Story of Leicester traces the evolution of the Leicester over the last 2000 years. The first episode of the story belongs to Roman town of Ratae which once stood on the site of Leicester and flourished for more than 300 years before vanishing into obscurity. Medieval Leicester was a busy market town and grew to be place of some significance and status though in the Tudor and Stuart periods the town declined. By the early eighteenth century, however, Leicester was prospering as an agricultural centre and local people took to manufacturing stockings giving Leicester a staple industry. This, unfortunately did not live up to its early promise and poor working conditions and a fluctuating market made the life of the framework knitters hard. Industrialisation and population growth radically changed Leicester in the late nineteenth century and the town became prosperous with an economy underpinned by the hosiery, boot and shoe and engineering industries - the basis of modern Leicester. The latest episode of Leicester history is full of change, the city has been enriched by new cultures and the old occupations have largely gone but there still remain many historic buildings to remind us of the past.
The book can be found in Waterstones, in the Independent bookshop, Kibworth and on Amazon. It can also be obtained directly from the publisher.
Explorations in Local and Regional History
The Centre for English Local History has joined with the Centre for Local and Regional History at the University of Hertfordshire to generate a series of books: Explorations in Local and Regional History, published by the University of Hertfordshire Press. The emphasis is on fresh subjects and novel themes, and the books are aimed at both scholars, and the many who read about local history, and do their own research, outside the formal academic world. The books are written in an accessible style, with illustrations. The first eight volumes published have been:
Richard Jones and Christopher Dyer (eds), Farmers, Consumers and Innovators: The World of Joan Thirsk (2016).
Ronan O'Donnell, Assembling Enclosure: Transformations in the Rural Landscape of Post-Medieval North-East England (2015).
Mandy de Belin, From the Deer to the Fox: The Hunting Transition and the Landscape, 1600-1850 (2013).
Jacqueline Eales and Andrew Hopper (eds), The County Community in Seventeenth-Century England and Wales (2012).
Paul Cullen, Richard Jones and David N. Parsons (eds), Thorps in a Changing Landscape (2011).
Christopher Dyer and Richard Jones (eds), Deserted Villages Revisited (2010).
Christopher Dyer (ed.), The Self-Contained Village? The Social History of Rural Communities, 1250-1900 (2007).
Susan Ooisthuisen, Landscapes Decoded: The Origins and Development of Cambridgeshire's Medieval Fields (2006).
Other books
Articles
A. Hopper, ' "The great blow" and the politics of popular royalism in Civil-War Norwich', English Historical Review, 133:560 (2018), pp. 32-64.
A. Muir, 'Courtship, sex and poverty: illegitimacy in eighteenth-century Wales', Social History, 43:1 (2018), pp. 56-80.
C. Dyer, 'The Midland economy and society, 1314-1348: insights from changes in the landscape', Midland History, 42:1 (2017), pp. 36-57.
S. Kilby, 'Divining medieval water: the field-names of Flintham in Nottinghamshire', Journal of the English Place-Name Society, 49 (2017), pp. 53-89.
R. Jones, R. Gregory, S. Kilby and B. Pears, 'Living with a trespasser: riparian names and medieval settlement on the River Trent floodplain', European Journal of Post-Classical Archaeologies, 7 (2017), pp. 33-64.
A. Muir, 'Dearth and the parish: mortality in eighteenth-century Wales', Postgraduate Journal of Medical Humanities, 4 (2017), pp. 101-133.
K.D.M. Snell, 'The rise of living alone and loneliness in history', Social History, 42:1 (20167), pp. 2-28.
R. Jones, 'Responding to modern flooding: Old English place-names as a repository of traditional ecological knowledge', Journal of Ecological Anthropology, 18:1 (2016), pp. 1-25.
R. Jones, H. Miller and N. Sykes, 'Is it time for an elemental and humoral (re)turn in archaeology?', Archaeological Dialogues, 23:2 (2016), pp. 175-192.
A. Hopper and E. Gruber von Arni, 'Welfare for the Wounded', History Today, 66:7 (2016), pp. 17-23.
K. Schurer, T. Penkova and Y. Shi, 'Standardising and coding birthplace strings and occupational titles in the British censuses of 1851 to 1911', Historical Methods, 48:4 (2015), pp. 195-213.
K. Schurer and T. Penkova, 'Creating a typology of parishes in England and Wales: mining 1881 census data', Historical Life Course Studies, 2 (2015), pp. 38-57.
S. Kilby, 'Mapping peasant discontent: trespassing on manorial land in fourteenth-century Walsham-le-Willows', Landscape History, 36:2 (2015), pp. 69-88.
C. Dyer, 'The material world of English peasants, 1200-1540: archaeological perspectives on rural economy and welfare', Agricultural History Review, 62:1 (2014), pp. 1-22.
A. Hopper, 'The reluctant regicide? Thomas Wayte and the civil wars in Rutland', Midland History, 39:1 (2014), pp. 36-52.
P. King, ''Ethnicity, prejudice, and justice: the treatment of the Irish at the Old Bailey, 1750-1825', Journal of British Studies, 52:2 (2013), pp. 390-414.
K.D.M. Snell, 'In or out of their place: the migrant poor in English art, 1740-1900', Rural History, 24:1 (2013), pp. 73-100.
A. Hopper, 'Social mobility in the English Revolution: the case of Adam Eyre', Social History, 38:1 (2013), pp. 26-45.
A. Muir, 'Illegitimacy in eighteenth-century Wales', Welsh History Review, 26:3 (2013), pp. 351-388.
C. Dyer, 'Poverty and its relief in late medieval England', Past & Present, 216:1 (2012), pp. 41-78.
K.D.M. Snell, 'Belonging and community: understandings of "home" and "friends" among the English poor, 1750–1850', Economic History Review, 65:1 (2012), pp.1-25.
K.D.M. Snell, 'Churchyard closures, rural cemeteries and the village community in Leicestershire and Rutland, 1800–2010', Journal of Ecclesiastical History, 63:4 (2012), pp. 721-757.
C. Phythian-Adams, 'From peoples to regional societies: the problem of early medieval Cumbrian identities', Transactions of the Cumberland and Westmorland Antiquarian and Archaeological Society, 3rd series, 11 (2011), pp. 51-64.
R. Jones, 'The village and the butterfly: nucleation out of chaos and complexity', Landscapes, 11:1 (2010), pp. 25-46.
A. Hopper, 'The self-fashioning of gentry turncoats during the English Civil Wars', Journal of British Studies, 49:2 (2010), pp. 236-57.
P. King, 'The impact of urbanization on murder rates and on the geography of homicide in England and Wales, 1780-1850', Historical Journal, 53:3 (2010), pp.1-28.
K.D.M. Snell, 'A drop of water from a stagnant pool? Inter-war detective fiction and the rural community', Social History, 35:1 (2010), pp. 21-50.