Volunteering Stories
Get inspired by the contribution volunteers make.
Samuel, Library Champion
Samuel volunteered with the Library Champions because he felt that he wanted to add experiences to his CV while also doing something which benefits people, too. Samuel chose the Library Champions specifically because he felt that he would be able to contribute a lot to the scheme.
"I've always loved reading, and as a physics student I thought I could help get other science students to better engage with the library. I really developed my confidence through this scheme. I think that by doing the various tasks I needed to do I found that I already could do them. It showed me that I could be confident and say 'Yes, I can do that' or 'Yes, I'll take on that responsibility,' and then follow through on that commitment."
When asked what he would say to anyone who hasn't volunteered before, Samuel says, "Volunteering is fun, helps others, and helps develop yourself too. If you have time, it's definitely worth it!"
Kazz, Finance Volunteer at Vista
Kazz gained practical office-based experience by volunteering at Vista's Head Office, where there are a range of different departments. Vista is a charity that supports people with sight loss. Upon reflecting on her experience, Kazz said it was fun and realised just how important each person is to supporting the charitable organisations' mission.
When asked what he would say to anyone who hasn't volunteered before, Kazz said: "It's nice to do an activity once a week for your mental health, and also just be involved with society as a whole. Talk to everyone and anyone.
Don't be shy to try new things. Don't stress out if you miss a day. There is no attendance so feel free to go again even if you haven't gone for a long time."
Anubhooti, Library Champion
Anubhooti opted to volunteer as a Library Champion as she wanted to enhance her English reading skills but gained so much more than she anticipated. Anubhooti says the most enjoyable part of her experience was working with others who are equally passionate about growing, learning and researching. When asked if she benefitted from her experience, Anubhooti says, "Being a volunteer not only help us make a difference but will help us to grow individually and academically. I made very good friends from other departments and networked with people working in the library. I enhanced my reading, presentation, communication and team working skills."
Frankie, School Reading Buddy
Frankie volunteered on a fortnightly basis for over 6 months to support children in a local primary school with their reading and offered additional classroom support, when required. Frankie also boosted her confidence and communication skills by creating a presentation to teach classrooms full of children about the Chinese New Year.
Upon reflecting on her volunteering experience, Frankie said: "After seeing the teachers and the Teaching Assistants handling over 30 pupils, I learned that teaching positions are very demanding, so I am glad to be helpful to the teaching staff, no matter how small the impact might be."
Gunjan, Warning Zone Volunteer
Gunjan volunteered for Warning Zone, a local charity dedicated to teaching life-skills and safeguarding to children in an engaging and interactive setting.
Volunteering has benefited her in many ways. It has helped her to enhance her leadership skills and interact with people of all ages. Volunteering has also provided Gunjan with a platform to discover exciting career paths and gain valuable practical experience to build her CV.
Gunjan feels a real sense of pride through her volunteering and said: "The most enjoyable and rewarding part of my experience was working with children and seeing them learn about safety. I enjoyed teaching them and helping them to understand key messages around being safe online. I was also proud to be part of the Warning Zone team and to contribute to their mission of making the world a safer place."
Volunteer case studies | Everyone has a story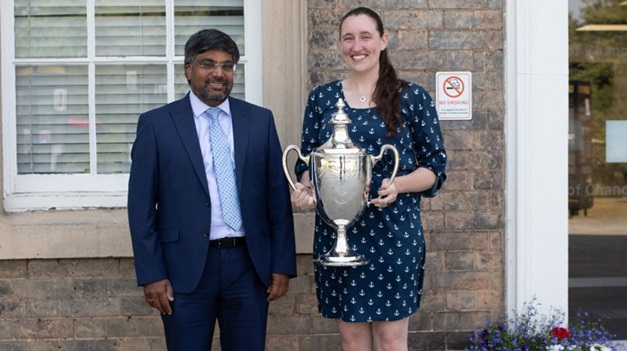 One of my favourite experiences while at the University of Leicester was being a Library Champion. I got the opportunity to learn a variety of new things, work on projects with a lasting impact, meet interesting people and engage with the University in a way that was different from my program of study. It was an amazing experience and I believe the skills I gained will help me in future endeavours.
Inspire others with your volunteer story
If you would like to share your story of your volunteering experience and how volunteering has helped you please email volunteer@le.ac.uk.
How can volunteering help you and others?
Caitlin Wake, 2021 Graduate told us about her volunteering experiences and how they enhanced her experiences while at the University of Leicester.
"My volunteering experience has been immensely invaluable, rewarding, and enjoyable!
My first taste of volunteering at university was participating in 'Make a Difference in schools,' whereby I volunteered in local primary schools to help children make various crafts related to the Diwali festival. I also took part in 'Make a Difference in the Community' which involved volunteering in local care homes to support and help their residents in making Christmas themed crafts. I really enjoyed these experiences and they led me to decide to train to become a Peer Mentor, as I wanted to be able to offer longer term support to others and this seemed to be the best way as a student to go about doing this.
Volunteering has allowed me to acquire a variety of skills by allowing me to take on duties and responsibilities that I did not have before."
These are the amazing benefits of volunteering:
Volunteering can help you to make new friends and meet likeminded people
Volunteering is a valuable way to develop and enhance your skills and boost your employability prospects
Volunteering looks great on your CV and on applications
Volunteering is good for your mind and body – it's beneficial for your mental and physical health
Volunteering has an enormously positive impact in the community
No previous experience is needed to volunteer. You just need to be able to offer a bit of your time and be willing to make a difference.
If you would like to receive email notifications about new volunteering opportunities, or have any questions about volunteering, please email volunteer@le.ac.uk to be added to our mailing list.