Street Law
After being helped by a youth homelessness project when she was younger, a University of Leicester student is now spearheading a project to bring legal clout to the streets of Leicester. Street Law does exactly what its name suggests; it brings law to people on the street, to people in the Leicester community and beyond who may have very little knowledge of our legal system. It is run entirely by student volunteers from Leicester's Law School who deliver engaging workshops designed to educate people about different areas of law that are relevant to them.
Street Law is run by a team of 17 University of Leicester law students who deliver legal advice to people in Leicester. Gabrielle is one of these student volunteers:
Law can be seen as an elite subject, but if I can do it, anyone can! Street Law brings legal advice to more vulnerable members of society. It opens law up to people who can really benefit from a bit of legal understanding and knowledge in their day to day lives. We don't feel sorry for people. It's just nice to feel like we're doing something constructive and useful. It's not so much a sense of fulfilment that I get from volunteering, it's just a really nice feeling to do something good for someone else and try to make a difference. I absolutely love volunteering with Street Law.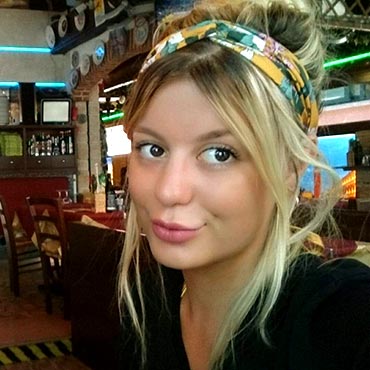 Gabrielle is a second-year law student and is poised to take over as Street Law project director next year. Gabrielle's enthusiasm for the project is infectious and it is clear that the benefits of the project are wide ranging, not only for the beneficiaries but also for the volunteers.
Engaging members of the public with little to no law previous law experience is a rewarding challenge. Topics covered by the teams when they visit local community groups include domestic abuse, human rights and stop and search.
Community engagement is undertaken with various charitable organisations in the Leicester community in addition to groups such as the Rotary Club, Women's Institute, prisons, or anywhere where people want to know more. Beyond that though, Street Law does a lot of engagement with young people in mainstream primary and secondary schools, talking to the children about issues which are relevant to them such as internet safety, drugs and cyber bullying.
Gabrielle explains: "I love working with young children because they just have so much fun. We do mock trials with them and they dress up in wigs."
In addition to covering relevant legal topics, Street Law provides volunteers with the opportunity to talk to young people about their aspirations. This year, Gabrielle has worked in a school for children with behavioural difficulties.
She explains: "I worked with a young person who has had an unsupportive upbringing. It was lovely to work with them and see that they were really inspired and interested in what I was talking about. I could see them thinking that maybe they could do something different to what they had previously imagined. If you've never been exposed to anything outside your community bubble, you don't know these things are even possible. I think that law can seem out of reach to some people from certain backgrounds, like it's an elite subject, but if I can do it, anyone can do it!"
Next year, Gabrielle plans to reach out to local youth homelessness projects. "I was supported by one of those projects when I was younger so it's a topic that really resonates with me."
Youth homelessness can occur for a wide variety of reasons, from family breakdown and mental health problems to gang crime and the social care system. There are lots of ways in which Street Law can provide relevant legal advice to these young people to support them in moving forwards.
On volunteering with Street Law at the University of Leicester, Gabrielle enthuses: "It's the best society! Just do it! If you want to improve your legal research skills, your people skills, your presentation skills, come and join us. We build up your confidence alongside your legal skills. You'll make such a difference to people's lives and make the best friends whilst bringing law to the person on the street."
Street Law over the airwaves
Every Wednesday from 4.00pm-5.00pm, volunteers from the Street Law project broadcast on Galaxy Media, the University of Leicester's media portal, to discuss a range of legal topics from homelessness to legalising drugs and environmental issues. The radio show is interactive; listeners can send in their comments or questions to add to the debate.
Key statistics
Street Law is made up of a team of 17 volunteers: 1 director, 1 coordinator, 3 team leaders, 8 presenters, 4 researchers.
Between September 2018 and May 2019, the Street Law team have delivered presentations to over 20 organisations and groups.
Street Law presentations cover topics including: human rights, voting, stop and search, discrimination, pathways to law, cybercrime, women's rights, women in the workplace.
Street Law is active during the academic year from September to April.