Research
CRÍA researches art institutions and the notion of art collections, from the most well-known galleries and museums to independent studios and shows. Here are some samples of the research collective's studies on the subject of galleries representing a nation's creativity, and the art of destruction.
National Galleries: The Art of Making Nations
National galleries - or national museums of fine art as they are known in some parts of the world - now exist in almost every capital city on earth. Until now, however, only the most glamorous examples in capitals like London, Paris, Madrid, Amsterdam, Berlin and Washington have been given prominence. Valuing their wealth of Old Masters, art historians have tended to treat these galleries as definitive.
In his book, National Galleries: The Art of Making Nations, Simon Knell sets out to change how we look at, study and understand these institutions and the art they hold. He argues that to really understand them we must dismiss these old elitist perspectives and value those in Paris, Santiago, Harare and Manila equally.
He pays considerable attention to the role of national galleries in constructing national narratives of painting. Observing that artworks and art museums are singular and situated, he provides new arguments for detecting and valuing local and national art practices, and countering often oppressive and exclusive internationalist perspectives. He does not neglect, however, the political significance of the international masterpiece.
National Galleries looks at these institutions through the lens of nation making. It examines their global history and geography, the politics of their architecture and art curating, the various ways in which national and international art become bound to the nation, and how national galleries have participated in different ways in the invention of national art narratives.
Breaking and remaking art
This is an extract from Stacy Boldrick, 'Trash as Trash as Art: Reflections on the Preservation and Destruction of Waste in Artistic Practice', New American Notes Online, 2015.
Breaking and remaking images and objects are powerful acts to experience. Some people call the current generative use of destruction in art-making 'creative iconoclasm', and I'd like to tell you about one experience that significantly grounded my own research in the field.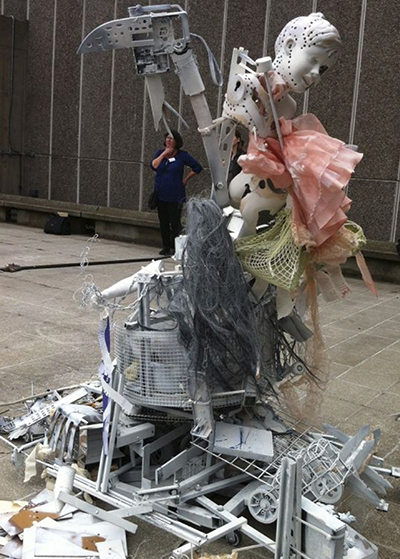 Collective Self-Destroying Sculpture from Michael Landy's Workshop on Destruction, June 2012. Photograph: Author
Workshop on Destruction
On 16 June 2012, I took part with 12 other participants in the artist Michael Landy's 'Workshop on Destruction', an all-day workshop included in 'Wide Open School', the Hayward Gallery's month-long programme of workshops, talks, and conversations led by artists. Landy and his long-time collaborator Clive Lissaman introduced the workshop by showing short films of Jean Tinguely's 'Homage to New York' (1960), a large-scale kinetic sculpture set to self-destruct (or more correctly, to destroy itself) in the Museum of Modern Art's sculpture garden, and 'Landy's Break Down' (2001), an art event comprising the destruction of all 7,227 of the artist's material possessions through a systematic process of sorting, grouping, and dismantling them.
We had been asked to bring personal objects to destroy during the workshop, objects that would be attached to the framework of a base form, a large white motorized sculpture, so that the final collectively-made sculpture would serve as an homage to Tinguely's 'Homage', 'Break Down', and Landy's other projects—all of which had attracted many of the participants to the workshop. I found it remarkable that 'Break Down' took place over a decade ago, left no original material trace, yet it continued to retain its power in the public imagination, or at least in the minds of the workshop participants.
Smashing the past and present
Participants selected objects that represented painful or pleasant memories, objects they simultaneously loved and hated; others were not so emotionally attached to their objects and simply wanted to dispose of them. Other participants submitted objects that they had collected over the years, or in some cases, things they had hoarded and desperately needed to expunge from their homes. One woman brought some of her dead mother's old reading glasses, all of which she had kept because they helped her to continue to feel close to her mother after her death. Another man decided to destroy a machine he used in his work. A newly qualified teacher brought her first classwork planner, a thing of pride that she wanted to discard in order to progress beyond her training period. My wooden penguin Christmas tree decoration and a floppy disc of my PhD dissertation were two objects that represented problematic relationships, memories, and behaviors that I wanted to leave behind. We were given a wide range of tools with which we could destroy our objects, from scissors and small saws to sledgehammers, along with advice on which tools might best suit our purposes. We were told to be aware of how we were feeling when we destroyed our objects.
Sculpting the future
Once the objects had been dismantled and rendered useless as the original objects, we attached them to the base form of the self-destroying sculpture, spray painted the whole thing white—like Tinguley's Homage—and witnessed it eventually whir itself to oblivion, after several starts and stops. Bits broke, fell off, and flew off, with Landy smashing the sculpture and its fragments from time to time with the sledgehammer to encourage its further demolition. After the event took place, Landy and Lissaman awarded all of the participants "certificates in destruction" in a mock graduation ceremony. One participant's blog about the workshop includes links to a film clip, and the performance was televised, but no material elements survived.
The experience of making a collective self-destroying sculpture and witnessing its destruction reminded me that it is possible and more useful to live without so much stuff. It also helped me to recognise and understand the potential value of objects as materials after their original value is lost Perhaps most importantly, it also made me reflect upon the ultimately highly conflicted attitudes we have towards material objects.