International Education (with Specialist Routes)
International Education (with Specialist Routes)
MA, 1 year, full-time
This is for you if... you want to enhance your understanding of contemporary issues in primary, secondary and post-compulsory education in international contexts.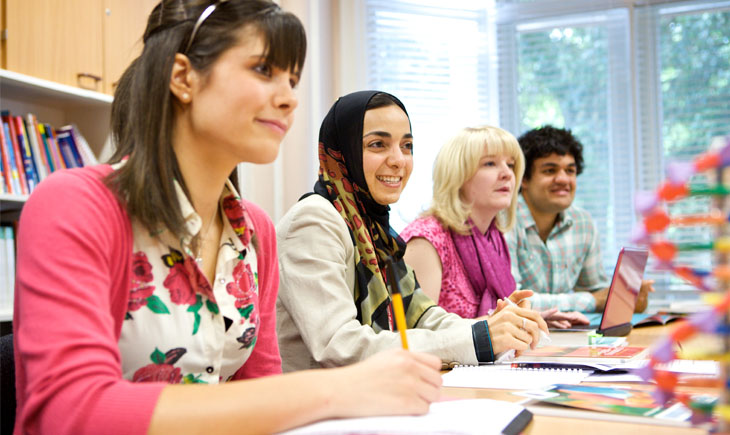 Course Description
This course offers teachers, lecturers and educational leaders in schools, colleges and universities - as well as those with experience of, or an interest in, education in broader contexts - a valuable opportunity to reflect upon their own practice and to enhance their knowledge.
The MA in International Education is a rigorous qualification which provides you with several opportunities to undertake research in your particular area of interest, building on your knowledge in this specialised area.
You will study two core modules and you will then choose one of the three Pathways and complete a dissertation.
You will be able to develop your knowledge and skills by applying your learning to real-life situations within your own educational setting - whether that is a school, college or university. The MA is a powerful vehicle for institutional improvement, as well as personal and professional development. You will develop an ability to reflect critically on theory in the areas of teaching and learning, as well as culture, power and educational leadership, and use it as a basis for understanding and improving practice.
You will develop research skills and you will be given training in the use of qualitative and quantitative research methods in educational contexts. You will be equipped with methodological knowledge and skills for your career in education or further research at doctoral level, should you wish to continue your studies.
Why Leicester?
Our courses aim to develop leaders in education and so have been designed with your career prospects in mind.
You will be taught by academics who are at the forefront of research in education and who feed the latest developments into their teaching.
Education at Leicester attracts students and academics from all over the world, allowing you to become part of an inclusive, diverse and professional international network.
Our range of modules allow you to study a course tailored to your interests.
Course Structure
Core modules
Core modules
Contemporary Issues in International Education
Introduction to Educational Research Methods
After completing these modules, you will choose one of the three Pathways which consist of two specialist modules.
Dissertation
You will undertake a dissertation in a subject of your choice, giving you the opportunity to delve deeper into an area that particularly interests you. You will be supervised by a member of staff with expertise in your chosen area who will guide and support you. We expect that your dissertation will take up to 600 hours of independent study.
Modules shown represent choices available to current students. The range of modules available and the content of any individual module may change in future years.
Pathway 1
Pathway 1
Leadership for Social Justice in Education
This route considers how communities of learners are constructed to create enthusiastic learners, drawing in part on various studies carried out by tutors in the UK, Lebanon, Turkey and China. We will discuss the importance of the critical engagement of formal and informal leaders with other participants in constructing and sustaining the cultures of learning communities and how such communities interact with their contexts. This route will promote your knowledge and understanding of:
People, power and culture in particular contexts to meet the learning needs of all their members
Organisational cultures that engage or negate the development of learners and staff
Formal and informal leaders thinking critically about learning/teaching and their social interactions with each other in particular contexts
Student voice and teacher/support staff identity
Modules shown represent choices available to current students. The range of modules available and the content of any individual module may change in future years.
Pathway 2
Pathway 2
Pedagogy
This route will focus on issues of pedagogy, and as such will be of benefit if you are interested in deepening your understanding of the factors which influence the processes of learning and teaching. This route will cover issues including:
The nature of learning
The role of assessment in pedagogy
The role of the curriculum in shaping pedagogy
Contemporary advances in pedagogy, including the growing impact of ICT
The role of politics and culture in shaping pedagogy
Modules shown represent choices available to current students. The range of modules available and the content of any individual module may change in future years.
Pathway 3
Pathway 3
Innovation and Reform
This route will give you a greater understanding of contemporary theories of education, particularly with regard to critical pedagogy, and also the process of effectively leading educational change. It will provide a focus on innovation and reform concerned with helping schools to play an active role in creating and maintaining more humane and sustainable futures. This route will actively engage you in aspects of educational development such as:
Democratic citizenship
Critical literacy
Creative thinking
Sustainable development
Inclusion
The role of technology
Modules shown represent choices available to current students. The range of modules available and the content of any individual module may change in future years.
Teaching and Assessment
Modules are delivered by a combination of face-to-face seminars, classes, workshops and field trips.
You will have the additional support of an online repository of relevant materials and the University Library to help with your independent study.
The course is continually assessed through a number of written assignments and presentations, as well as the 15,000-20,000-word dissertation at the end of the degree. An assignment of 4,000-5,000 words or equivalent is completed for each module, enabling you to develop your academic interests. There are no exams for this course.
Students' Learning Experience
Our students benefit from a lively academic environment, through the expertise and scholarship of our academic staff and the active and progressive research environment that characterises the School of Education. Specialist speakers are often invited to give research seminars at the School and we also run a more informal series of lunchtime research meetings, called 'Food for Thought', where all staff and postgraduate students are invited to attend and to lead seminars. In addition, occasional seminars are arranged by support staff on special topics, such as new developments in ICT.
During the autumn and spring terms, appropriate arrangements are made for students to conduct research in the university or local schools with a view to practise their research skills and build up their confidence to conduct dissertation project independently.
Every summer, the School of Education holds an Open Postgraduate Conference to give our research students the opportunity to present their work to a wider academic and professional audience. The event is attended by postgraduate research students from UK and international universities and provides an excellent opportunity for networking within a wider research community.
Your studies are supported by a course tutor who oversees your development and progress. In addition, each taught module is led by an experienced module tutor or coordinator. You are allocated a dissertation supervisor during the Spring term. This allocation takes account, as far as possible, of your developing educational interests and the supervisor's research interests.
Entry Requirements
2:2 or above (or equivalent)
GPA 3 (US equivalent) or above
You should be a teacher or intending to work in the educational field.
Evidence of knowledge and understanding of educational systems.
Direct experience of working in education is not essential.
English Language Requirements
IELTS 6.5 or equivalent, with at least 6.0 in each component score. If your first language is not English, you may need to provide evidence of your English language ability. If you do not yet meet our requirements, our English Language Teaching Unit (ELTU) offers a range of courses to help you to improve your English to the necessary standard.
International Qualifications
Find your country in this list to check equivalent qualifications, scholarships and additional requirements.
Countries list
Career Opportunities
The International Education MA will equip you with a wide knowledge of contemporary issues in education and in foundational research methods. Many of our graduates have secured initial teaching positions, gained promotion in their existing jobs, or moved on to more senior or challenging posts in the educational field.
Education CPD+ offers a range of professional development opportunities for practicing teachers.
Our PhD opportunities are very popular with those wishing to pursue a particular research interest at doctoral level.
We are committed to training and developing outstanding teachers. We are proud to be able to support the career progression of so many teachers through the courses we offer, many of whom started their journey with us as PGCE students.
Careers
Our Career Development Service is here to support you, with advice on interviews, CVs, work experience, volunteering and more. From Freshers' Week to Graduation and beyond, they are here to help you reach your professional goals.
| Course | Qualification | Duration | Start Dates | Availability |
| --- | --- | --- | --- | --- |
| International Education | MA | 1 year full-time | September each year | Apply Now |
Course
International Education
Qualification
MA
Duration
1 year full-time
Start Dates
September each year
Availability