International Education
International Education
MA, 2 years, by distance learning
This is for you if... you are an educational professional wanting to improve your understanding of contemporary educational issues.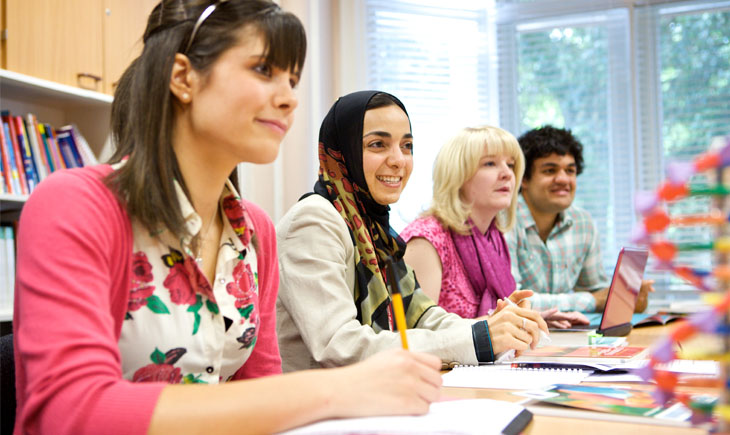 Course Description
The MA in International Education is designed for educational professionals in primary, secondary or tertiary education, as well other organisations with an educational remit - for example NGOs, charitable organisations, museums and galleries. This degree will:
Enhance your understanding of contemporary educational issues, both national and international, with a particular emphasis on those which are of direct relevance to your professional context.
Develop your ability to reflect on theory in the area of teaching and learning and use it as the basis for understanding and improving practice.
Develop your ability to undertake small scale research.
Develop your understanding of ethical principles which underpin the design, conduct and reporting of educational research
This is the only course of its kind offered by a UK University completely by distance learning. The course will be delivered using the latest online technologies.
Studying by supported distance learning allows you to choose when and where you study, meaning you do not have to take a career break. We pride ourselves on the level of support we provide our distance learning students. Our award-winning library has world class facilities for distance learning students. You will have full access to our other support services and will be assigned a personal tutor. Out virtual learning environment Blackboard offers the course material and a wide range of study support material, and you will have the opportunity to join an interactive web-based community of fellow students around the world.
If you have any questions about this course, join us for a live online chat with academic tutors and admissions staff.
Key Facts
Start date

April and October each year

Department

Education

Contact
Why Leicester?
The University of Leicester has over 25 years' experience of offering high quality distance learning courses.
Education at Leicester has an excellent international reputation for the development and teaching of intellectually stimulating education courses.
Our courses aim to develop leaders in education and so have been designed with your career prospects in mind.
You will be taught by academics who are at the forefront of research in education and who feed the latest developments into their teaching.
Course Structure
Core modules
Core modules
Contemporary Issues in International Education
Introduction to Education Research Methods
Plus your Dissertation, which is an opportunity for you to develop your special interest areas. The dissertation is expected to take up to 450 hours of independent study.
Modules shown represent choices available to current students. The range of modules available and the content of any individual module may change in future years.
Option modules
Option modules
You will be able to choose one of the five pathways so that you can specialise in the subject that interests you the most. Each pathway includes two modules - the lead module and a specialist study module.
Pathway 1: Leadership for Social Justice in Education
Pathway 2: Pedagogy
Pathway 3: Innovation and Reform
Pathway 4: Inclusion and Special Education Needs
Pathway 5: Learning Technologies
Modules shown represent choices available to current students. The range of modules available and the content of any individual module may change in future years.
Additional Information
Key Dates
Start date: 2 October 2017
Application deadline for October 2017: 25 September 2017
Teaching and Assessment
For your core and option modules you will be assessed by a combination of written assignments, posters (presented in a 'virtual gallery') and oral presentation (presented via podcast).
In addition you will keep a (non-assessed) reflective journal which will demonstrate your development as an educational researcher, accompanied by an e-portfolio of associated learning resources.
Entry Requirements
2:2 or above in a relevant subject, or equivalent.

You will need to demonstrate a minimum of two years' experience (not necessarily consecutive) in a professional role (paid, unpaid, voluntary) as an educator, manager, or a learning support role (or equivalent). If your experience in any one of these roles is less than 2 years, please contact us so that we can discuss the relevance of your experience for this programme). Applications are welcome from those involved in education at primary, secondary or tertiary level, as well as those working within other organisations, for example government, NGOs, museums and galleries. If you are unclear about the work experience requirement, you can discuss this with the programme administration team.
English Language Requirements
IELTS 6.5 or equivalent. If your first language is not English, you may need to provide evidence of your English language ability.
International Qualifications
Find your country in this list to check equivalent qualifications, scholarships and additional requirements.
Countries list
Careers
Our Career Development Service is here to support you – by email, phone or skype – with advice on interviews, CVs, work experience and more. From registration to Graduation and beyond, they are here to help you reach your professional goals.
| Course | Qualification | Duration | Start Dates | Availability |
| --- | --- | --- | --- | --- |
| International Education | MA | 2 years by distance learning | April and October each year | Apply Now |
Course
International Education
Qualification
MA
Duration
2 years by distance learning
Start Dates
April and October each year
Availability