History
MA, 1-2 years, full- or part-time
This is for you if... you want to expand the depth of your historical knowledge and develop advanced skills in historical research.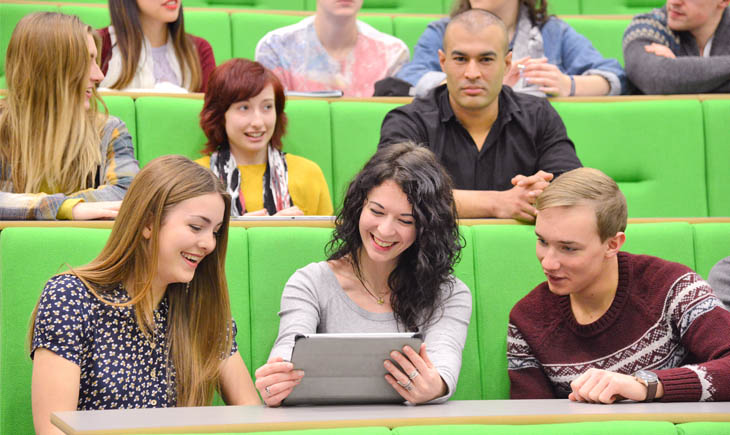 Course Description
The MA in History provides you with the opportunity to pursue an extensive range of historical topics and will equip you with advanced research skills. The course will allow you to expand the breadth of your historical knowledge by selecting from options which have a wide chronological range and international scope.
You will develop a thorough grounding in research methods and learn about the key theoretical traditions that have influenced the writing of history in the 20th century through our core options of Historical Research Methods and History and Social Theory. Our range of option modules within Medieval, Early Modern and Modern History will allow you to gain an in-depth knowledge of a number of specific aspects of the past.
This degree will equip you with the necessary training and experience to continue research at doctoral level and will enhance your attractiveness to employers. You will be encouraged to develop an independent approach to research and critical reflection.
Our MA is divided equally between two core research training modules and two option modules selected from a list, plus a 15,000-20,000 word dissertation. The course can also be studied part-time over two years.
Why Leicester?
History at Leicester is home to two highly regarded postgraduate research centres, the Centre for English Local History and the Centre for Urban History, which deliver our specialist MAs.
We have dedicated postgraduate facilities, including audio suites, a map room, and specialist libraries covering local and urban history.
We are home to the hugely popular and successful New History Lab. The lab was set up by postgraduates for postgraduates to provide an interactive forum to discuss history and share ideas.
Course Structure
Semester 1
Semester 1
Core module
Option module
Choose one option module from:
Directed Reading Module
Family History
Mastering Medieval Sources
Medieval Landscapes
Patients and Practitioners: Responding to Illness in Early Modern Europe, 1450-1750
The City in History
The Holocaust - A Genocide: Mass Murder in Comparative Perspective
The Prime Ministers: Political Leadership in Twentieth-Century Britain 1902/1997
Victorian Society
Modules shown represent choices available to current students. The range of modules available and the content of any individual module may change in future years.
Semester 2
Semester 2
Core module
History and Social Theory
Plus your
Dissertation
Option modules
Choose one option module from:
After The Holocaust: History and Memory in Postwar Germany
American Freedoms: Rhetoric and Reality in the USA
Conservation, Heritage and the Urban Environment
Directed Reading Module
Global Cities: The View from Asia
The Crusades in the Eastern Mediterranean, 1095-1291
The Local Identities and Palaeography of Early Modern England, 1500-1700
Understanding English and Welsh Communities and Cultures, 1700-2000
Modules shown represent choices available to current students. The range of modules available and the content of any individual module may change in future years.
Teaching and Assessment
You will be taught mainly through seminars which will typically involve five to ten students. Depending on the options taken, you may also take part in visits to local and national archives or trips to sites of historical relevance to the course. You will be encouraged to attend specialist workshops and research seminars run by the department.
Each module is assessed by coursework that takes a variety of forms and includes group work as well as individual assignments. You will complete a dissertation of 15,000 to 20,000 words, working closely with your research supervisor.
If you are enrolling as a part-time student, the requirements of the course are spread over two years. You will complete a dissertation in your second year.
All modules are taught to full- and part-time students together, ensuring that part-time students are integrated into the postgraduate community.
Research Stories
Entry Requirements
2:1 degree in history or another relevant discipline.
We also welcome applicants who do not have a degree but who can show enthusiasm and competence by having attended relevant certificated courses, by submitting published work or by writing qualifying essays to a first degree standard.
English Language Requirements
IELTS 6.5 or equivalent. If your first language is not English, you may need to provide evidence of your English language ability. If you do not yet meet our requirements, our English Language Teaching Unit (ELTU) offers a range of courses to help you to improve your English to the necessary standard.
International Qualifications
Find your country in this list to check equivalent qualifications, scholarships and additional requirements.
Countries list
Career Opportunities
Our MA course will offer you a very strong competitive advantage and career choices and your future salary can be considerably enhanced by postgraduate qualifications.
A postgraduate degree in history provides you with a wide range of skills including:
critical analysis of textual, visual, and material evidence
statistical analysis and database design
advanced written and oral presentation skills
time management and independent working on a large-scale research project.
As a postgraduate student in the department, you will also have the opportunity to plan meetings and conferences and get involved with the intellectual community of historians at Leicester.
Careers
Our Career Development Service is here to support you, with advice on interviews, CVs, work experience, volunteering and more. From Freshers' Week to Graduation and beyond, they are here to help you reach your professional goals.
| Course | Qualification | Duration | Start Dates | Availability |
| --- | --- | --- | --- | --- |
| History | MA | 1 year full-time | September each year | Apply Now |
| History | MA | 2 years part-time | September each year | Apply Now |
Course
History
Qualification
MA
Duration
1 year full-time
Start Dates
September each year
Availability
Course
History
Qualification
MA
Duration
2 years part-time
Start Dates
September each year
Availability