Educational Leadership
MSc, 2 years, by distance learning
This is for you if... you are working in an educational setting and have an interest in how leadership and learning are connected in driving change, or you wish to develop your skills to progress in educational leadership.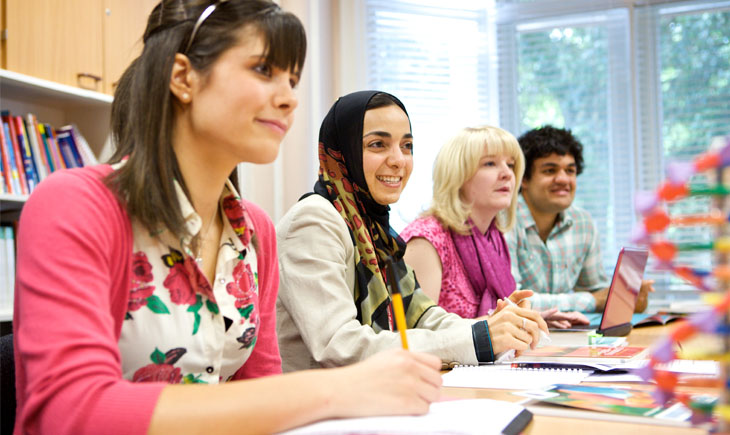 Course Description
The MSc in Educational Leadership offers a fascinating insight into an arena that has changed remarkably over recent years. Leading and promoting optimal learning is the key challenge that confronts educational leaders, advisers, policy makers and governments. Finding the connections between leadership and learning is not easy and involves change and reform in organisations. These three key themes - leadership, learning and change - are the basis of this course.
This postgraduate degree will enable you to reflect upon practice in your organisation, identify areas of professional concern and become equipped to find solutions and lead change. The course is designed to be relevant to a wide range of practitioners in diverse settings internationally who consider themselves involved in education.
We recognise the importance of connecting theory with practice. Throughout the course you will be supported in developing a flexible set of professional inquiry skills to inform practice in your work setting. Your personal development will equip you to lead change in your organisation.
Former students have also found gaining this respected MSc useful in gaining promotions and developing career pathways.
Exemptions
You can apply for exemption from up to two modules on the basis of prior learning (completed within the last five years only). Exemptions are considered on a case by case basis and there may be a small administration charge. Please contact us for details and an application form.
If you have any questions about this course, join us for a live online chat with academic tutors and admissions staff.
Key Facts
Start date

April and October each year

Department

Education

Contact

Social Science Distance Learning Hub
+44 (0)116 252 3755
css-dl@le.ac.uk

Join us for a live online chat.
Why Leicester?
The University of Leicester has over 25 years' experience of offering high quality distance learning courses.
Education at Leicester has an excellent international reputation for the development and teaching of intellectually stimulating education courses.
Our courses aim to develop leaders in education and so have been designed with your career prospects in mind.
You will be taught by academics who are at the forefront of research in education and who feed the latest developments into their teaching.
Course Structure
Year 1
Year 1
Modules
Modules shown represent choices available to current students. The range of modules available and the content of any individual module may change in future years.
Year 2
Year 2
Modules
Plus your dissertation
Modules shown represent choices available to current students. The range of modules available and the content of any individual module may change in future years.
Additional Information
Key Dates
Start date: 9 April 2018
Application deadline for April 2018 start: 27 March 2018
Teaching and Assessment
You will be assessed for each module by 5,000-6,000 word assignments which should take around 225 hours of study. There are no exams on this course. Your dissertation is one report of between 15,000-20,000 words which should entail around 450 hours of study
You can expect to work 14 hours per week. There is some scope in the course to block some of this workload into school holidays, reducing the demands during term time.
Studying by distance learning allows you to choose when and where you study, meaning you do not have to take a career break. We pride ourselves on the level of support we provide our distance learning students. Our award-winning library has world class facilities for distance learning students. You will have full access to our other support services and will be assigned a personal tutor. Out virtual learning environment Blackboard offers a wide range of study support material, and you will have the opportunity to join an interactive web-based community of fellow students around the world.
Entry Requirements
Either: at least a 2:1 degree or equivalent.
Or: UK Qualified Teacher Status or its equivalent professional status in an educational organisation.
At least three years' teaching experience, or alternatively, three years with equivalent professional status in an educational organisation.
You must be currently employed in, or have access, to an educational organisation or provider. This could include working in a school, college, the military or in Government, or training roles in other sectors.
Accreditation of Prior Learning
You may be able to apply for exemption from these modules:
Educational Leadership, Learning and Change (ELLC)
External Influences on Educational Leadership (EIEL)
Accreditation for Prior Certified Learning (APCL)
If you have Masters-level (level 7) credits completed during the last five years you may be eligible to apply for 30 or 60 credits towards your MSc. You can apply for APCL if your certificates allow exemption from the modules above.
Accreditation for Prior Experiential Learning (APEL)
If you have significant relevant professional experience you may be eligible to apply for 30 or 60 credits towards your MSc. You can apply for APEL if you can demonstrate (by undertaking some written tasks) that your professional experience allows exemption from the modules above.
Exemptions are considered on a case by case basis.
Find out more about APCL and APEL.
English Language Requirements
IELTS 6.5 or equivalent. If your first language is not English, you may need to provide evidence of your English language ability.
International Qualifications
Find your country in this list to check equivalent qualifications, scholarships and additional requirements.
Countries list
Career Opportunities
Throughout this course you will keep a Professional Development Portfolio which can be used to underpin applications for promotions in educational leadership.
Education CPD+ offers a range of professional development opportunities for practicing teachers.
Our PhD opportunities are very popular with students who have completed the Educational Leadership MSc and wish to pursue a particular research interest at doctoral level.
We are committed to training and developing outstanding leaders. We are proud to be able to support the career progression of so many teachers through the courses we offer, many of whom started their journey with us as PGCE students.
Careers
Our Career Development Service is here to support you – by email, phone or skype – with advice on interviews, CVs, work experience and more. From registration to Graduation and beyond, they are here to help you reach your professional goals.
| Course | Qualification | Duration | Start Dates | Availability |
| --- | --- | --- | --- | --- |
| Educational Leadership | MSc | 2 years by distance learning | April and October each year | Apply Now |
Course
Educational Leadership
Qualification
MSc
Duration
2 years by distance learning
Start Dates
April and October each year
Availability