Biomedical Engineering
Biomedical Engineering
MSc, 1 year, full-time
This if for you if... you are excited by the challenges of matching solutions and technologies to problems in healthcare and medicine, whether in a clinical environment or in the home.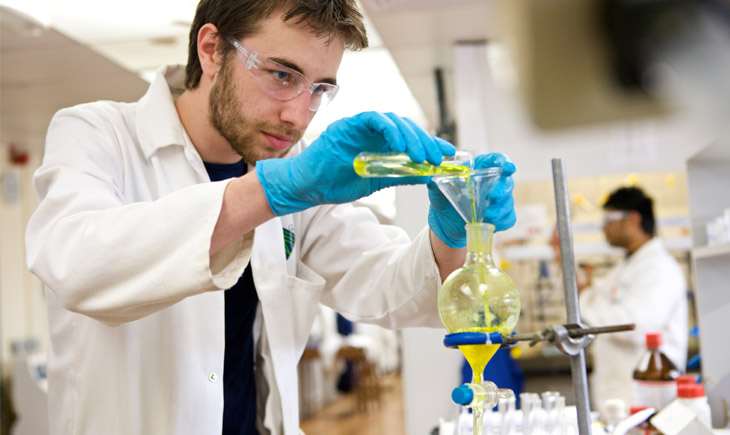 Course Description
Biomedical engineering is a scientific discipline that advances knowledge in chemistry, engineering, biology and medicine, and improves human health through multidisciplinary research that integrates the engineering sciences with the biomedical sciences and clinical practice. Over the last few years there has been a major shift in both Europe and the United States, away from traditional schemes of health care towards health care systems which are much more dependent on technology. This is true in terms of diagnosis, treatment and health care system integration.
The skills and training you gain on this course will allow you to apply engineering principles and materials technology to healthcare. You will study the design and manufacture of medical equipment, including the principles of business and management which apply to the biomedical sector. In particular, you will learn about the issues and challenges surrounding the production and use of nanomaterials in biomedicine and medical devices, both now and in the future. We will also examine the ethical principles that underpin medical engineering, regulatory issues and governance.
Why Leicester?
The Department of Chemistry at the University of Leicester has state-of-the-art facilities and strong industrial and international collaborations, ensuring that our research is cutting edge and addresses topical issues.
The Leicester Biotechnology Group (LBG) has a long track record of innovative work in the area of diagnostics polymer chemistry, and houses an inter-disciplinary team of chemists, engineers and biologists.
Course Structure
Modules
Modules
Biomedical Engineering – Theory and Practice/Research Design and Methodology
Bioanalytical Technology
Engineering of Functional Materials
Emerging Technologies and Nanomedicine
Diagnostics and Imaging
Principles of Medical Equipment Design and Manufacture
Bioethics, Regulations and Governance
Professional Development and Integration of Core Principles
Modules shown represent choices available to current students. The range of modules available and the content of any individual module may change in future years.
Project
Project
You will have the opportunity to undertake an industrial or academic project - to advance your knowledge through the pursuit of independent research. This could be:
An industry placement with an industry supervisor
An industry related project with an industrial and academic supervisor
A more academic related project under the supervision of a member of the academic staff
Your research project will enable you to apply the skills and knowledge you have gained during the course. It will reflect your intended future career path, and you will receive guidance from relevant academics.
Your project may involve working with an industry partner on the development of new biomedical and bioengineering technologies. This will provide you with valuable industrial experience and let you discover how the skills acquired on your degree relate to challenges within industry.
Modules shown represent choices available to current students. The range of modules available and the content of any individual module may change in future years.
Teaching and Assessment
Teaching methods include lectures, practical classes and workshops (independent and in groups) plus guided independent study. Assessment is a mixture of exams, individual coursework, group work and practicals (including formal presentations and poster sessions).
All of our courses are linked to Blackboard, the University's online learning environment which gives you access to lecture notes, self-test exercises, supplementary information and background literature.
Entry Requirements
2.2 degree (or overseas equivalent) in a physical science (preferably chemistry or biochemistry) and/or relevant industrial experience.
English Language Requirements
IELTS 6.0 or equivalent. If your first language is not English, you may need to provide evidence of your English language ability. If you do not yet meet our requirements, our English Language Teaching Unit (ELTU) offers a range of courses to help you to improve your English to the necessary standard.
International Qualifications
Find your country in this list to check equivalent qualifications, scholarships and additional requirements.
Countries list
Careers
Our Career Development Service is here to support you, with advice on interviews, CVs, work experience, volunteering and more. From Freshers' Week to Graduation and beyond, they are here to help you reach your professional goals.
| Course | Qualification | Duration | Start Dates | Availability |
| --- | --- | --- | --- | --- |
| Biomedical Engineering | MSc | 1 year full-time | September each year | Not currently available; contact admissions. |
Course
Biomedical Engineering
Qualification
MSc
Duration
1 year full-time
Start Dates
September each year
Availability
Not currently available; contact admissions.