Postgraduate programmes
Data, technology, and Artificial Intelligence are revolutionising our world. Businesses, governments and society are being improved through the power that is underpinned by mathematics, algorithms, software engineering and data analysis.
We are a thriving academic community with extensive experience in delivering high quality courses and undertaking pioneering research.
We offer a rich portfolio of advanced courses and a flexible degree structure that will allow you to choose a course that matches an area in which you want to specialise, a profile suitable for the career that you wish to pursue, or simply your interests. Our courses allow you to develop into a highly skilled professional, well versed in advanced methods and tools.
Courses
Computer Science
Advanced Computer Science MSc
1-2 years, full-time
Advanced Software Engineering MSc
1-2 years, full-time
Cloud Computing MSc
1-2 years, full-time
Mathematical Sciences
Data Analysis for Business Intelligence MSc
1-2 years, full-time
Actuarial Science
Actuarial Science with Data Analytics MSc, PGDip
9 months-1 year, full-time
A scholarship for one of the MSc Programmes is a financial award from the University or Department. The main criterion for awarding a scholarship is academic merit. Scholarships, unlike loans, do not have to be re-paid.
---
Scholarships
Departmental scholarships/academic merit awards
We offer these scholarships to overseas students (i.e. students who are not classified by the University as home students for fee purposes). The award is based on previous academic achievements. There is no formal application process, as all applicants will be automatically considered for these scholarships.
The scholarship amount varies depending on previous qualifications gained and the achieved grades. In order to be considered applicants must have submitted their MSc application by 31 August (for intended September entry) and 30 November (for intended January start).
University scholarships
---
International students
People from all over the world study Computer Sciences at Leicester at postgraduate level, either on campus or via our distance learning programmes.
No matter how far you've come, we want you to feel at home. Find out more about support available and information on fees and language tuition from the University's Global Opportunities Team.
Hear from our students
Some of our MSc students from India have shared their experience about studying and living in Leicester.
Anand - Advanced Computer Science MSc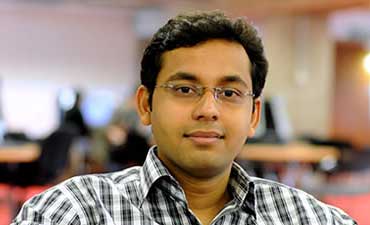 A degree in computer science from the University of Leicester will help you prepare yourself for a wide range of career opportunities, aside from offering you the skills and material to immerse yourself in an academic environment never experienced in undergraduate college. You will meet so many fascinating people, be they students or lecturers, who will have such a profound influence on your life and possibly even on your character.
At Leicester, I like the fact that there is the right blend of theoretical work as well as the opportunity to expand on practical knowledge. Maybe you haven't decided exactly what you want to do yet. Don't worry! Computer Science at Leicester offers a world of opportunities. You can use your MSc degree to work in the financial sector or software and perhaps prepare you for a PhD!
Harshal - Advanced Software Engineering MSc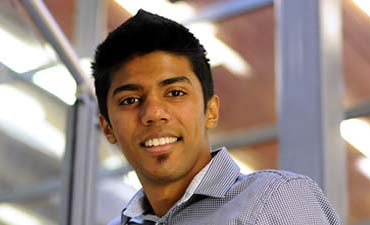 The environment will enable you to achieve the perfect balance in relation to your academic and social life. There are many events organised by the University which are designed to make your time at Leicester memorable!
The events calendar commences from the day one and starts with the ISWP (International Student Welcome Programme) which helps international students to settle in and become acquainted with British culture and customs. Also, I have not once had reason to complain about the facilities and access to academic resources. Additionally, I have received constant motivation from lecturers and tutors.
Finally, the university makes a great effort to help you to establish links with industry, to enable you to start your career as soon as you complete your education. But ultimately, it all depends on you, so just grab the opportunity and make the most out of it.
Lakshmi - Advanced Computer Science MSc
I came to Leicester from from Kerala, India. I was apprehensive at first, not knowing if the British educational system would suit me or not. But I soon realised that I need not have had fears. I have come to love the life and atmosphere of the University of Leicester. It is such a lovely place to be in and the people are really friendly too!
Make sure you make the most of the time at the University of Leicester. Get involved in everything you possibly can, make a bunch of friends, have fun and oh, don't forget to study too. Ultimately, it will be one of the most memorable times of your life.
Mayuresh - Advanced Computer Science MSc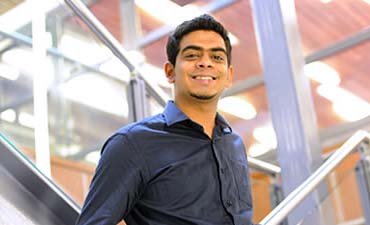 When I arrived on campus I felt nervous, apprehensive, and excited. We were thrown into Software Oriented Architecture class right off the bat, and all I could think was, "Wow, I'm in over my head". When I joined my fellow admits for pizza and a night out with current students, I began to feel that I 'fitted in' at the University. It was during my first Personal Tutor meeting about the future in this course that something clicked inside me: the University of Leicester was the place for me!
A huge number of opportunities and experiences await you here; people can be found from diverse cultural backgrounds, all chasing their varied goals. But you will always find a Professor or a colleague who has time for your queries and respects your opinions. There are lot of extra-curricular activities like volunteering, sports, the students' magazine and a lot of events that brings the entire university to socialise together as one. Also the International Buddy Programme implemented is amazing! International students have the opportunity to have a buddy who helps them to get adjusted, and helps with all their needs and they offer advice regarding the do's and don'ts at the university. Finally, your time spent at Leicester is bound to be memorable, given the wide array of things that Leicester has to offer. You may be from any part of the world but the University of Leicester strives to be your second home.