RefugEAP programme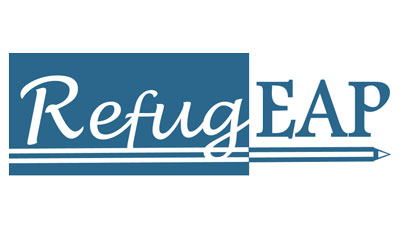 N.B. This page outlines what the RefugEAP programme is, who it is for and how it will work. It is currently in its pilot phase, with the first (closed) cohort starting in October 2022. We have not opened up the student registration process for general admission to the second cohort in January 2023 yet. When we do, the details and the registration form will be available on this page.
Many refugee-background students struggle to access courses (such as pre-sessional programmes) which will help them improve their academic English to help them prepare for university. RefugEAP is a specially-designed online programme which has been developed to meet this need, providing refugee-background students with an opportunity to continue to develop their academic English skills in a supportive way while they are waiting for more formal opportunities to become available.
What is RefugEAP?
RefugEAP is a structured online programme of free non-formal English for Academic Purposes (EAP) classes and independent learning resources, specifically for refugee-background students.
It has been developed by staff at the University of Leicester's Sanctuary Seekers' Unit and the University of Leeds Language Centre, and is supported by partner organisations RefuAid, Screen Share, Password and Oxford University Press.
It takes a different approach from typical formal pre-sessional academic English programmes because:
It is more flexible, as RefugEAP students study part time, which may help them balance their studies more effectively with other priorities in their lives
It is specifically designed to remove barriers to access and inclusion which refugee-background students often face, and students will have access to specialist wrap-around support from partner organisation RefuAid before, during and after the course
All tutors will be volunteers and will receive training (including trauma training) to help to sensitise them to work more effectively with students from refugee backgrounds
There is an enhanced emphasis on supporting students to become independent learners, and students will receive a good deal of guidance and support in how to use effective learning strategies (such as planning and goal setting)
The ethos behind RefugEAP is that of trauma-informed social justice education, with an emphasis on inclusivity, student choice and agency, critical thinking, social responsibility and personal reflection. This will be reflected in the processes and the content of the course (which will be largely based around examining the UN Sustainable Development Goals)
Course details
Levels - the course will run at two levels:

Intermediate (IELTS 5.0-5.5 / CEFR B1+)
Upper-Intermediate (IELTS 5.5-6.5 / CEFR B2)

Length of course – each level will be divided into two 10-week blocks
Live classes – students will have two live classes per week (90 minutes per class), and in each class there will be 12-15 students
Independent study – students will be supported to work towards individual targets by developing and using effective language learning strategies and academic study skills. This will be facilitated through:

individual tutorials with a tutor
developing and using personal learning plans to set and work towards goals
writing weekly reflective logs
a minimum of 3 hours of independent study per week
Who is it for?
The RefugEAP is for refugee-background students who meet the following eligibility criteria:
have a refugee background (a range of immigration statuses are accepted)
are based in the UK
have qualifications equivalent of UK Level 3 or above (i.e. meet academic requirements for admission to a degree programme)
intend to study at a UK university at either undergraduate or postgraduate level (and priority will go to those who already have an offer of a place but cannot access academic English classes to help them reach the required level)
have an English language level of IELTS 5.0 or above
be able to commit to 3 hours per week of synchronous online sessions, plus 3 or more hours of independent study
What resources do students need to study on this course?
To be able to attend the synchronous online classes and access the independent learning materials, students will need access to:
a computer/laptop
a stable internet connection
a microphone (and also a webcam, ideally)
These might be their own, or borrowed from a friend, or accessed at another place, such as a university or a library. However, if students think they will struggle to access these things, they should let us know and we will try to find ways to support them.
RefugEAP is being kindly supported by a number of partner organisations, including:
How can individuals and organisations support the RefugEAP Programme?
There are various ways in which individuals and organisations can get involved in the RefugEAP Programme, including:
becoming a volunteer tutor on the programme (if you are able to deliver a minimum of 1.5 - 3 hours per week of online classes)
becoming an associate member organisation (referring students into the scheme, and considering referrals for eligible RefugEAP students onto your pre-sessional/IELTS or academic programmes)
becoming an official partner organisation (contributing time or resources to support the running of the scheme)
joining the RefugEAP Working Group, which is designed to complement the RefugEAP Programme, bringing together practitioners and researchers from across the HE sector to network, share good practice and build a strong evidence base to facilitate the development of more EAP opportunities for refugee-background students
If you are potentially keen to support the scheme in one of these ways, please complete the expression of interest form to indicate the role(s) you're potentially keen to get involved with.
How can I get in touch or find out more?