RefugEAP Programme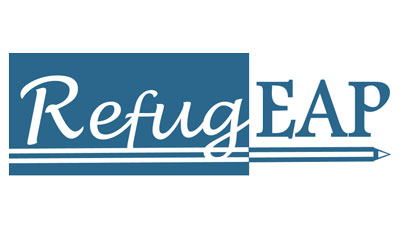 RefugEAP is a free online pre-university academic English skills programme for refugee-background students across the UK. It is for students who need to improve their academic English skills to help them access a degree programme at university, but perhaps have not been able to access a formal pre-sessional English for Academic Purposes (EAP) programme yet. RefugEAP has been developed to meet this need, providing students with an opportunity to continue to develop their academic English skills in a supportive way while they are waiting for more formal opportunities to become available.
The RefugEAP Programme has been developed by staff at the University of Leicester's Sanctuary Seekers' Unit and the University of Leeds Language Centre. It is being kindly supported by dedicated volunteer tutors and a number of partner organisations, including Password Testing (who are providing assessments), Screen Share (who are providing digital devices for students who need them), RefuAid (who are providing wrap-around support and referrals) and Oxford University Press (who have provided online course books).
Listen to a British Council Teaching English podcast featuring the RefugEAP Programme
Watch a video of a presentation entitled Introducing the RefugEAP Programme (from Breaking Barriers Refugee Week 2023).
I can tell for 100% that I'm truly satisfied with the quality and the flow of the programme. It is designed with love, and I received so much support both from academic side and psychological side.