In 2020 we embarked on a project to celebrate the rich 100-year history of the University and its people. We wanted to honour the legacy of our founders and bring our archives to life.
Students, staff, alumni, friends and the entire community were called to contribute ideas for Our 100 and we were overwhelmed by the response.
Our 100 shares a people's history of the University of Leicester in 100 stories. Not every story shared could be included, but as Dr Simon Dixon, Head of Archives and Special Collections says, "the 100 is a collective memory of the University, it is not the 'top 100', it's what people told us was important to them."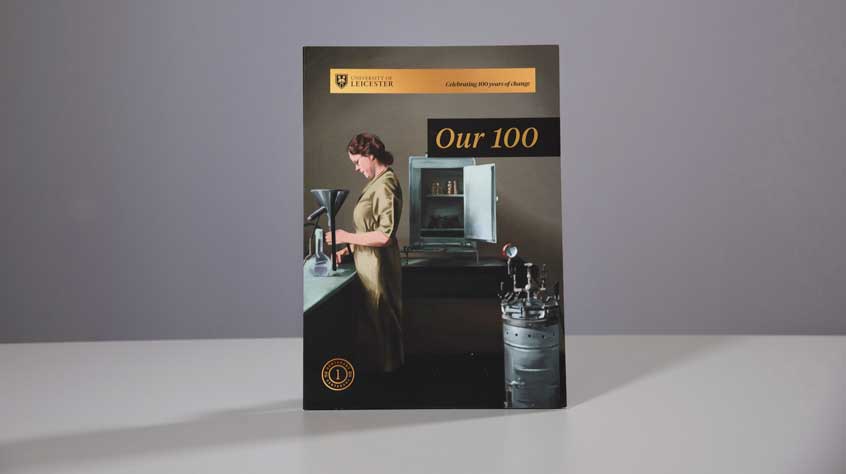 It is not the 'top 100', it's what people told us was important to them.
A team effort
The idea of an Our 100 list was raised early on in conversations about how we could mark the centenary. Dr Dixon was asked to lead its preparation as his team is responsible for preserving, curating and interpreting the University archive.
The project was a real team effort. The Our 100 list was put together by a working group that included staff from across the University, as well as representation from our Students Union and alumni.
Historical expertise was provided by our Research Associate Elizabeth Blood and Dr Sally Horrocks, a specialist in Contemporary British History who has expert knowledge of the University's history. Archivist Vicky Holmes was central to accessing material in the University's collection.
Dr Sarina Wakefield, Lecturer in Museum Studies, served on the working group and received input on the list from her course students.
Archive material
Thousands of boxes on more than a kilometre of shelving tell just part of the story of the University of Leicester.
The University Archive only tells part of the story. More information continually flows in from present and former staff and alumni, and the work involved in creating Our 100 has led to fresh discoveries.
The call for nominations
The call for contributions went out to Leicester's current staff, students, 135,000 known living alumni, former staff, and the wider public.
Dr Dixon says: "Some possessed written accounts from their time at the University and we uncovered some fascinating personal stories.
"Alumna Sandya Narayanswami told us about her experience of being the first Indian woman to compete on University Challenge, when Leicester's team beat St John's College, Oxford. She fearlessly fought – and won – against racist attitudes."
"Bamber Gascoigne said I had 'exceptionally broad general knowledge for a science major'. I replied: 'That's because I spent all my time in libraries'. What I didn't tell him was that the racism in my school was so bad I spent all my time in the library. I read extensively and retained what I read. At Leicester, I was treated like an intelligent human being and graduated with a first-class degree at the top of my year."
Many accounts of student life on campus and in Oadby were offered and several interesting photographs were found, including of the Attenborough Tower and the Engineering Building when under construction.
Illustrating history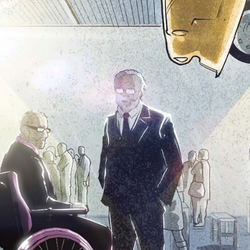 As part of the drive to bring Leicester's diverse history to life the team behind Our 100 wanted to do something a little different and more engaging.
That's where the team at the Attenborough Arts Centre came in. The team contacted Jeremy Webster, its Deputy Director and asked for his support. "Helping to celebrate the centenary by including the work of artists was something we were particularly keen to be involved in and it wasn't a huge leap in imagination to see the 100 stories gathered for this book turned into a series of illustrations."
"After all," continued Webster, "pictures can speak a thousand words and we hope that this novel and accessible approach to our heritage will generate both interest and enthusiasm for both the University and art."
Illustrations were produced by AmCo Studios Ltd., headed by best-selling illustrator Amrit Birdi. As Dr Dixon explains, "we wanted illustrations inspired by material from our archives to tell each story in an innovative and engaging way. Amrit and the AmCo team specialise in visual storytelling, so they were the perfect choice for Our 100."
An ongoing story
Our 100 is not intended to be the last word on Leicester's first century. The University will continue to add to its archive with anything appropriate brought to its attention Students, staff and alumni can contact the University Archives team if they have records of their time at Leicester they would like to offer.
Our 100 is, above all, the story of the people who made the University of Leicester what it has become over the last century, what they did and where, and how they carried out their work, study and leisure.
Discover a people's history of the University in Our 100 (PDF, 19mb).