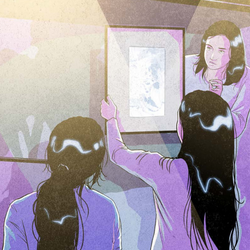 Heritage professionals, researchers and students from around the world come to Leicester to think creatively and critically about museums, galleries and heritage at the School of Museum Studies.
The largest of its kind in the world and the only one in the UK, the School started out as a small group offering a graduate certificate in 1966. It awarded its first PhD in Museum Studies – probably the first in the Anglophone world – in 1983 to Lynne Teather, who wrote on Museology and Its Traditions: the British Experience, 1845-1945.
The School is highly influential, with its Research Centre for Museums and Galleries focusing on how museums can be research-led, socially impactful and inclusive.
Despite its eminence, it is no ivory tower.
Peggy Banks, who left school aged 14 and did not study for a degree, took an MSc in Museum Studies in 2018. Her many years spent working in museums, in a paid and voluntary capacity, meant she could apply for postgraduate study.
"I was over the moon at being accepted," she says – although admits to having asked herself a few times "What I have done?"
I was over the moon at being accepted.
She appreciated how open the School was to non-traditional ideas. "Not an eye was blinked" at her suggestion of an exhibition on heavy metal music, and she later worked on how museums could help tackle global warming.
Museum Studies was set up with the strong support of Professor Jack Simmons OBE (1915-2000), the first Chair in History, who did much to promote the region's history. Leicester continues to support local history, working closely with the community.
Sound archive of local history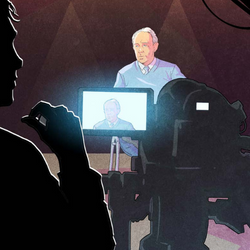 Recordings of local people telling their stories and radio shows going back 40 years are being preserved for future generations, thanks to work by the University.
The East Midlands Oral History Archive (EMOHA) is the first funded, large-scale archive of oral history recordings.
Recordings of local people's stories had been made since 1983 by the Leicester Oral History Archive and Market Harborough Museum. Sadly, by 2000, many recordings were in storage, neither used nor looked after.
So the University's Centre for Urban History, with the City and County Councils, won National Lottery Heritage Fund money to set up EMOHA. EMOHA digitised and catalogued oral history recordings and gave a home to BBC Radio Leicester's reel-to-reel tape archive.
The project continues to collect oral histories and trains people to do this. Through EMOHA, the University keeps "working with people in the local community, outside the academic bubble", as alumnus and staff member Colin Hyde says.
Many training sessions have imparted oral history skills to students, academics and the general public, so the legacy of EMOHA is evident across the region in dozens of local history projects, as well as academic work.
"Many training sessions have imparted oral history skills to students, academics and the general public, so the legacy of EMOHA is evident across the region in dozens of local history projects, as well as academic work," adds Hyde. "Original projects have been based both in the University and in community groups across the East Midlands."
"EMOHA has both preserved thousands of oral histories from the city, county and the wider region, and created recordings on a wide variety of topics. First-hand accounts of people, places and events that are now fading from memory have been preserved for posterity."