About

We are a multidisciplinary team working with researchers from disciplines across the University and externally. Partnering with Public Health England (PHE), the Health & Safety Executive (HSE) and the Leicester Biomedical Research Centre ensures our research in basic and translational science, and epidemiology, leads to changes in practice that improve public and patient health.
We focus on making a difference locally and internationally as well as developing the next generation of leading scientists in environmental health through training early career researchers and through high quality research-led teaching.
Key research areas
We have two established research themes in air pollution and in environmental noise. We have a developing theme of health effects of low-level environmental contaminants.
Air pollution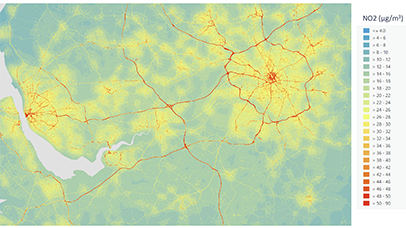 CEHS is conducting research on environmental determinants of respiratory and other diseases, bringing together expertise in air pollution, bioaerosols and clinical and genetic expertise. In the pandemic, we have been a go-to institution on the role of air pollution in COVID-19. We are also studying air pollution and transport noise in relation to childhood development.
Environmental noise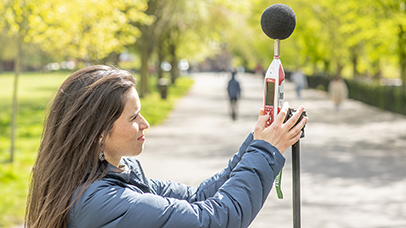 CEHS is one of the leading groups in the UK working on health effects of environmental noise. We have eight current UKRI, EU Horizon 2020 and other grants on environmental noise. We are often quoted in the media on health effects of noise. We are working with Public Health England (PHE) to estimate the burden of disease from environmental noise, covering heart disease, cognition and mental health.
We create detailed models of environmental noise across entire cities and regions that can be used to estimate individual or population exposures. The example below shows our noise model applied to Leicester City Centre.
Low-level environmental exposures such as volatile organic compounds (VOCs) and metals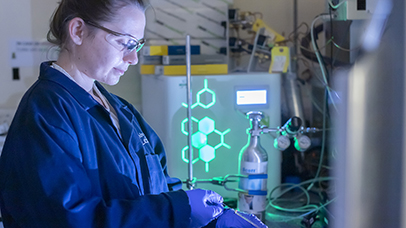 CEHS is developing research projects into health effects of other pollutants in the environment. These include volatile organic compounds (VOCs), that are part of indoor and outdoor air pollution and metals that can be found in soils and dust. This work is being carried forward through Health Research (NIHR) national Health Protection Research Unit (HPRU) in Environmental Exposures and Health at the University of Leicester, working in partnership with PHE and the Health & Safety Executive