Our locations and facilities
Research facilities
We have excellent laboratory, clinical and office facilities at Glenfield Hospital, the Leicester Royal Infirmary and the Henry Wellcome Building at the University of Leicester.
At Glenfield Hospital these include a recently-opened £12.5 million Cardiovascular Research Centre. The CRC provides an additional 2,200m2 facility, including a biobank capable of storing samples from up to 100,000 individuals, a clinical research informatics unit and a data-to-knowledge unit, which together will capture, code and translate anonymous patient data for research and will accommodate an advanced IT link between the University and the hospital.
Our locations
The Department of Cardiovascular Sciences is split across four sites. As car parking spaces are limited at all sites, please allow plenty of time to park, as you may have to park some distance away from your destination. Please check parking details in the links to the various sites for more detailed information.
Cardiovascular Research Centre (CRC) at Glenfield Hospital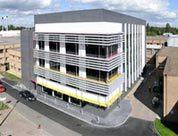 Cardiovascular Research Centre
University of Leicester
Glenfield Hospital
Groby Road
Leicester
LE3 9QP
If arriving at the hospital's main entrance, please follow the road round to the left outside the hospital building. The CRC's main reception is to the rear of the building, past the hospital's East and South entrances.
Clinical Sciences Wing at Glenfield Hospital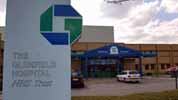 Clinical Sciences Wing
Glenfield Hospital
University of Leicester
Groby Road
Leicester
LE3 9QP
Please report to main reception in the hospital and they will telephone your contact who will come to collect you.
Robert Kilpatrick Clinical Sciences Building (RKCSB) at Leicester Royal Infirmary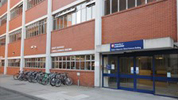 Robert Kilpatrick Clinical Sciences Building
Leicester Royal Infirmary
Leicester
LE2 7LX
Henry Wellcome Building (HWB) on the University of Leicester's main campus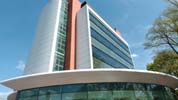 Henry Wellcome Building
University of Leicester
Lancaster Road
Leicester
LE1 7HB