Beyond the Three Age System
Mapping a history of materials from 3000 – 600 BC
A Leverhulme Trust-funded project aiming to transform how we think about the role of material things in the past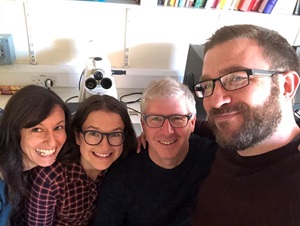 Divides have consequences. When we break up the past into the seemingly bounded periods of the Neolithic, the Bronze Age and the Iron Age, we create linear models of change that bracket off each period from the other based on the seeming importance of one material or another. Furthermore, each period seems to promise a sense of advancement, with 'better' materials, 'better' technologies (and implicitly) more complex societies emerging in turn.
This project seeks to challenge these divides by turning to the materials themselves. By taking an approach rooted in microwear analysis of stone, flint and bronze we will begin to investigate how different objects were used, we will trace histories of stone and bronze over millennia without worrying about the divisions between the different ages. How did the use of flint change when bronze was introduced? Or did it change at all? This approach will also challenge the ways in which archaeologists think and write about typologies, and the way form and function have traditionally become blurred in our narratives of British prehistory. Our aim is to start the process of mapping a history of materials that challenges our disciplinary expectations by working at multiple scales between archaeological contexts, innovative theoretical ideas and individual objects.
The project is generously funded by the Leverhulme Trust.