Campus and accommodation tours
Campus and accommodation tours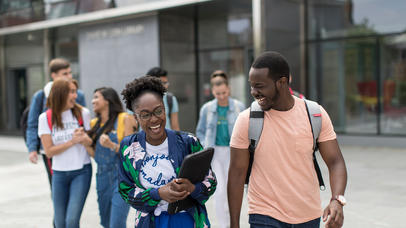 Our campus has been quiet for too long. Now it's open again and we would love to show you around. We have three tours, each guided by one of our Student Ambassadors who can tell you what it's really like to live and study at the University of Leicester. Places are limited for safety reasons, so book your tour now.
Don't forget your mask. (But we'll have spare ones if you do.)
Campus tours (every weekday)
Our compact, Covid-safe campus is small enough to get everywhere easily but big enough that it never feels crowded. We'll show you the David Wilson Library, the Danielle Brown Sports Centre and our newly opened, completely refurbished Students' Union, as well as teaching facilities. You can also meet our dinosaur, Jane the T rex.
Accommodation tours (every weekday)
The Village is a dedicated student accommodation complex a short bus/cycle ride from campus, next to our beautiful Botanic Garden. The buildings range from modern, purpose-built blocks surrounded by green space to amazing Edwardian villas with wood-panelled rooms and secret gardens. We'll take you inside and show you some typical student rooms.
Business School tours (Tuesdays and Thursdays)
Just a short walk from the main campus, Brookfield is home to our Business School. We'll show you the state-of-the-art teaching and social facilities that have been created in a massive £16 million refurbishment.
We will email you the day before your tour to give you all the details you need!