Space Engineering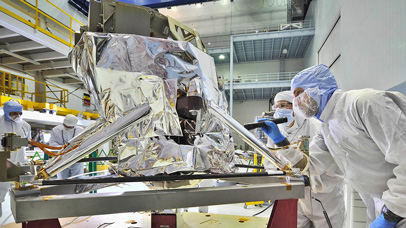 The University's Space Engineering teams are responsible for the engineering of space instruments from concept to launch and beyond. With a history of over 60 years of achievement, with successful launches starting with skylark in the early '60s, with XMM through Beagle II to BepiColombo launched in 2018 and now on its way to Mercury. This history underpins our current and future mission involvements, leading the development of complete and complex instruments (SMILE/SXI, THESEUS/SXI) or providing expertise to deliver expertise and hardware to international partners (JUICE/JMAG, JWST/MIRI, Athena/WFI, SVOM/MXT, CTA ….). Each new mission or project pushes the boundaries of our capability and ambitions, not just to make life interesting, since all of this work is for one purpose: to further the understanding of the universe, our solar system and the world we live in, for the benefit of society.
A full range of capabilities can be found within the teams which supports the ambitions within the school of Physics and Astronomy:
Mission Design and Development from concept to delivery
Electronics Engineering design and build for space and ground based systems
Mechanical and Thermal Design and Analysis using modern computer aided design systems
Design and build of specialist instrumentation and imaging systems
Manufacture of both mechanical and electronic systems
Instrument integration in the SRC's large clean rooms
A suite of specialised test facilities that help us to experimentally verify designs and hardware and to test these in an environment that replicates that seen at launch and in deep space
Besides the development of space instruments, the engineering team are proud to play an active part in the development of life saving technology working in partnership with the local University Hospitals and the Medical Research Council to take the space engineering expertise into the operating theatre and patient care. And it doesn't end there, with the application of engineering to ground- and aircraft-based systems for earth monitoring and ground-based system looking up at the sky to detect some the highest energy events in the universe.