Research in Action
Research in Action uses a Living Lab approach to research real life sustainability problems through collaboration to make a real world impact.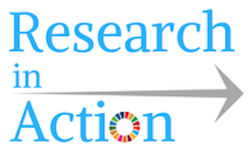 This is an opportunity for students, academic staff, professional services staff and external stakeholders to work together on collaborative, interdisciplinary projects looking at real life sustainability problems within the University or local community – either social, economic or environmental. This approach allows research, education and operations to mix and work effectively together within the university to enhance sustainable development.
Students gain practical experience and undertake real life research that enables students to link theory to practice and gain professional, technical and employability skills. By encouraging collaboration with professional services departments, such as Estates & Campus Services, this helps to break silos and build positive relationships and community across the University.
Previous projects
Politics/International Relations BA students
James Boyd - Mathematics BSc
Marketing MSc students
Asha Mistry - Geography BA
Bethan Mason - Biological Sciences (Zoology) BSc
Hannah Sellers - Biological Sciences (Zoology) BSc