Sarah Gault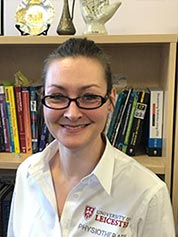 Sarah graduated from Sheffield Hallam University in 1998 with a 2:1 BSc (Hons) in Physiotherapy.
After completing her junior rotations Sarah specialised in Cardiorespiratory Physiotherapy and continued within this field for her senior rotations. After becoming a Clinical Specialist within Cardiorespiratory Physiotherapy, Sarah then went on to further specialise within critical care and became an Extended Scope Practitioner in Critical Care and Tracheostomy Care and was the Tracheostomy Lead for University Hospitals Coventry and Warwickshire NHS Trust for 6 years. She keeps up to date within the clinical arena by continuing to work clinically within critical care at University Hospitals Coventry and Warwickshire NHS Trust on a part time basis.
Sarah began her career as a lecturer here at the University of Leicester in 2006 where she took on a variety of teaching responsibilities within the BSc (Hons) Physiotherapy course. She is now module leader for the pathophysiology and the cardiorespiratory modules on the new Physiotherapy BSc (Hons) Undergraduate Degree Programme. One of her main responsibilities is Simulation Lead for the department. This is of particular interest to her and formed the basis for her dissertation for her PGCAPP which she completed in 2018 and gained FHEA status. She continues to look at simulation as part of her Master of Education which she is due to complete in August 2020. Alongside these roles she also teaches on other modules within the Physiotherapy curriculum and is the library liaison within the course.
She is a member of the ACPRC (Association of Chartered Physiotherapy in Respiratory Care) and has a special interest in critical care medicine, simulation and student education.